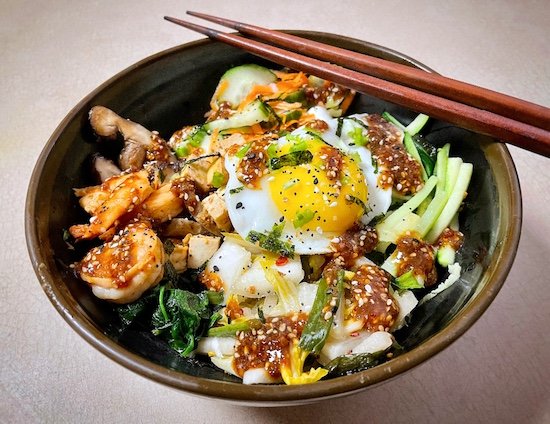 Bibimbap is an iconic Korean rice bowl dish with mixed veg and protein, spiced up with Korean sauces. It is easy to convert to keto so long as you use cauliflower rice and make your own sauces from scratch to remove the sugar. This recipe is testament to that.
Keto Bibibimbap Recipe
Bibimbap Ingredients:
Pickled Cucumber Ingredients:
Marinade for Shrimp/Meat and Tofu:
Bibimbap Sauce Ingredients:
Seasoned Cauliflower Rice Ingredients:
Directions:
First make the pickled cucumber. Combine the sweetener, rice vinegar and diced pepper in a bowl and stir until sugar is dissolved. Add the sliced cucumbers and carrots. Refrigerate for 4-6 hours, or overnight.

Combine the marinade ingredients in a bowl and add your chosen protein. Refrigerate for 2-4 hours.

Whisk together the Bibimbap sauce ingredients in a small bowl until smooth.

Heat the oil in a skillet and add the spinach, ½ teaspoon salt and ½ teaspoon sesame oil. Cook until the spinach is wilted and remove from heat.

Do the same with the zucchini and the shiitake mushrooms. You can cook these all together for convenience, I did it separately to make it look prettier.

To make the seasoned cauliflower rice, toss together the hot cauliflower rice with the fish sauce and sesame oil.

Heat a skillet over medium heat. Add the shrimp and cook for about 3-5 minutes, until pink all the way through. While the shrimp are cooking, make your fried eggs. By the time your shrimp are ready, the eggs should be done.

Add seasoned cauliflower rice to 2 serving bowls. Add the shrimp, kimchi and vegetables, and pickled cucumber along the sides of the bowl and place the fried egg on top. Garnish with sesame seeds and fried garlic (or everything bagel seasoning), seaweed, and bibimbap sauce.
Did you make this keto bibimbap recipe? If so, please let me know how it turned out in the comments. Or if you share pics of your creations on Instagram, please tag me so I can see them. Enjoy! :)