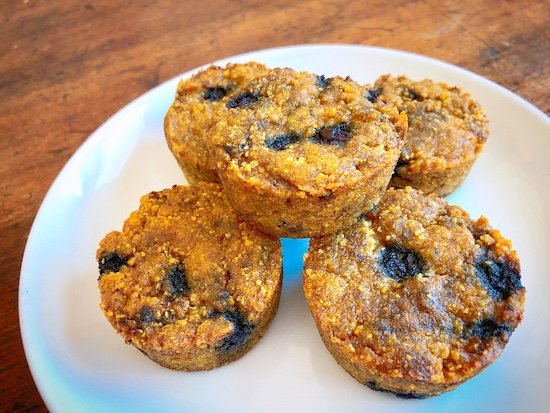 I've tried baking different ingredients than my usual almond/coconut flour mix since I'm avoiding almonds for the time being (not to mention eggs and cow dairy). This vegan keto blueberry coconut muffin recipe replaces almond flour with lupin flour (a high protein bean flour with less carbs), uses ground flax as the binder, and a variety of coconut products to give it moisture and healthy fat.
Vegan Keto Blueberry Coconut Muffins Recipe
Ingredients:
Directions:
Preheat oven to 350. Add whisk ground flax with coconut milk beverage. Set aside. Prepare a muffin tin with coconut oil cooking spray or muffin liners.

In a large mixing bowl, whisk together lupin flour, oat fibre, protein powder, coconut flour, glucomannan, baking powder, baking soda and sea salt.

Create a well in the centre of the dry mixture then add melted coconut milk beverage, coconut oil, raw cider vinegar, vanilla, erithrytol and liquid stevia. Stir together with a silicon spatula until just combined. Add the blueberries last, stirring gently to keep the batter from turning blue.

Fill each muffin hole in the tin ⅔ the way full of muffin batter, then bake for 30-35 minutes, until the edges just start to turn brown.
Did you make this vegan keto blueberry coconut muffin m recipe? If so, please let me know how it turned out in the comments. Or if you share pics of your creations on Instagram, please tag me so I can see them. Enjoy!