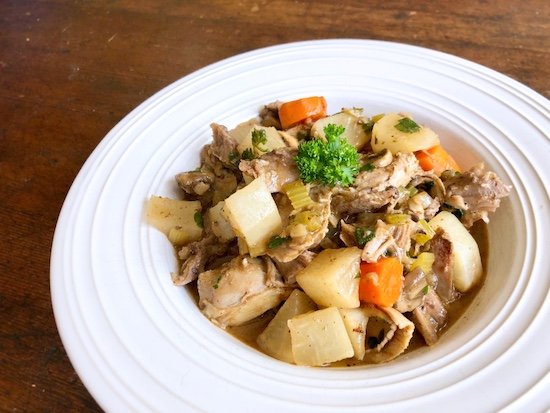 Braising is a wonderful way to get a richer taste from meats because all the juices and flavours combine and seep in during the slow cooking process. Using a turkey legs and thighs with the bones still in allows you to bring the bone marrow into the mix for even more flavour. Give this low-carb, keto-friendly braised turkey legs recipe a try and warm your body and soul on a cold, fall or winter night!
Keto Braised Turkey Legs Recipe
Ingredients:
4lb turkey legs (drumsticks, thighs, or a combination)
Kosher sea salt and freshly ground freshly ground black pepper (to taste)
1 tablespoon avocado oil
1 cup yellow onion, finely chopped
1 cup celery, finely chopped
2 cloves garlic, finely chopped
2 cups chicken or turkey bone broth
½ teaspoon sweet paprika
½ cup carrot, chopped (*Optional for added colour. Omit or replace with radishes if being super strict about carbs.)
1 cup white mushrooms
1½ cups radishes, turnip, or rutabaga, peeled and chopped into 1" pieces (*Listed in order of least to most carbs.)
1 tablespoon white wine vinegar
½ teaspoon glucomannan (*May sub xanthum gum, but glucomannan is healthier.)
½ cup fresh parsley, sage and oregano, chopped
Directions:
Sprinkle turkey thighs/legs with salt and pepper. Heat avocado oil in a large braising pan with high sides on medium-high heat. Add the turkey legs/thighs to the pan and sear until browned on all sides, about 5-8 minutes.

Add chopped onion and celery, nesting it under the turkey pieces. Sauté 3-4 more minutes or until browned.

Add bone broth and paprika and bring to a simmer. Lower the heat to the minimum setting and cover. Simmer covered for 80-90 minutes, or until the turkey is so well cooked and tender that the meat easily falls off of the bones.

Remove the turkey meat from the pan and remove the bones, taking special care to remove the many small narrow bones of the legs. Separate the skin from the meat and cut into smaller pieces.

Add chopped turkey skin, carrots, turnip/rutabaga to the pan with the turkey braising liquid. Sprinkle with salt and pepper. Bring to a simmer on medium-high heat. Lower the heat and cover the pan. Cook covered, until fork tender, about 15 minutes, adding mushrooms for the last 4 minutes. Remove the turkey and vegetables from the pan so you can reduce the remaining liquid to make a sauce.

Increase the heat to high and bring the remaining liquid in the pot to a boil. Reduce the liquid remaining in the pan by half to intensify some of the meat juices for added flavor.

Whisk in glucomannan. Stir in white wine vinegar and fresh herbs. Add additional salt and pepper if needed.

Add the turkey and vegetables back to the pan with the sauce. Serve immediately with keto bread for wiping the sauce.
Did you make this keto braised turkey legs recipe? If so, please let me know how it turned out in the comments. Or if you share pics of your creations on Instagram, please tag me so I can see them. Enjoy! :)