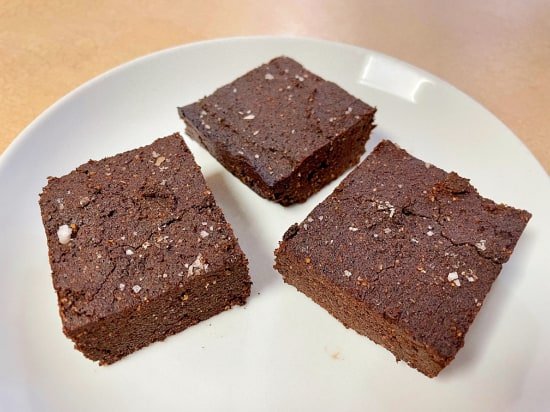 Coffee and chocolate are a magic combo, but these brown butter coffee brownies add the complex, nutty flavour of brown butter to the mix making this upscale, decadent keto version of a fudgey brownie.
Keto Brown Butyer Coffee Brownies Recipe
Ingredients:
Directions:
Preheat the oven to 325 degrees F/163 degrees C. Line an 8x8" baking pan with parchment paper and set aside.

In a medium, light-coloured sauce pan, heat the butter over medium high heat. The butter will start to foam and pop, make sure to stand by it and stir every 30 seconds or so, for about 5-6 minutes. When the butter turns dark amber in color and starts to smell nutty, remove the pan and pour into a bowl or large Pyrex measuring cup.

Add the chocolate to the butter, stirring to combine. Set aside and let cool.

In a medium bowl, sift together the flour, cocoa powder, salt, and coffee. Set aside.

In a mixing bowl, add the eggs and sweetener. Whip the eggs and sweetener together with the whisk attachment on medium-high until the eggs are pale and fluffy, about 2-3 minutes.

Then with the mixer running on low, stream the chocolate and butter mixture into the eggs. Add the vanilla and mix until combined. Remove the bowl from the stand mixer.

Add in half of the dry ingredients into the mixing bowl. Use a silicon spatula to fold the dry ingredients into the batter, then add the remaining half. Fold until there are no more flour streaks.

Pour the batter into the prepared baking pan. Sprinkle with flaky sea salt if using. Bake at 325F for 40-50 minutes or until a toothpick comes out with just a few crumbs on it.
Did you try this keto brown butter coffee brownies recipe out? If so, let me know how it went in the comments, or tag me in any photos you share on Instagram so I can see your creation. Enjoy! :)