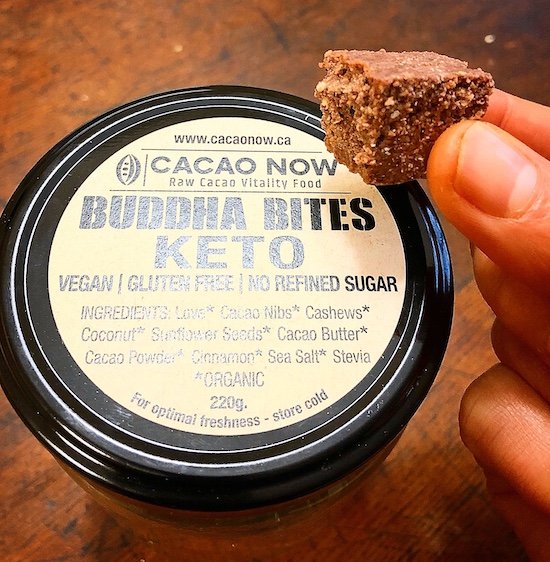 A good friend of mine picked up some Keto Buddha Bites for us to share, a hand-crafted raw chocolate snack made by a company called [Cacao Now] (https://cacaonow.ca/) in Squamish. I figured it was a good opportunity to review a locally made keto product. According to their website, all their products are:
100% organic
Raw, Vegan, Gluten-free
Free of additives and soy
Free from refined sugars
They offer free shipping for orders over $100 to anywhere in Canada, a nice bonus if you're not in the Squamish area. That being said, they only have this one keto product, so if you don't love it, you might not want to order $100 worth of it, but then there's always gifts for non-Keto peeps.
A Little Short on Sweetness
The cute squares that look like little fudge cubes are packaged beautifully in glass jars. They are meant to be stored cool, either in the fridge or freezer, as you would expect with most keto food products.
I really wanted to love them. They are definitely visually appealing. Even their texture is good. It's a shame the taste leaves you wanting... wanting sweetness. It's strange because keto treats usually err on the side of being over-sweetened. With these, it's the opposite. If I were to tweak the recipe myself, I would add erithrytol to bring up the sweetness level a touch without bringing on the sour aftertaste that comes from using too much stevia. A touch of salt would also bring out the taste of the cocoa a bit more as well.
Better Keto Ingredient Choices
To take down the carb level, I would swap out a few ingredients for other ones. I would go with almonds in favour of cashews, and pumpkin seeds in favour of sunflower seeds. Pumpkin seeds also happen to pair better with chocolate in terms of their flavour profile. That being said, Cacao Now was probably trying to avoid using nuts so that people with nut allergies wouldn't be excluded. If that's the case, cashews make sense.
Overall Impressions
I respect what Cacao Now is trying to do with their ingredients and their approach. It's just a shame that the keto Buddha Bites aren't a little more palatable. I corrected this somewhat by tossing them in some powdered Swerve so that I would at least enjoy what I had left of them. At the end of the day, they may take some feedback from the keto community and improve the product as it has a great base from which to grow.
Have you tried Cacao Now's Keto Buddha Bites? If so, what did you think of them? Please share your thoughts in the comments.