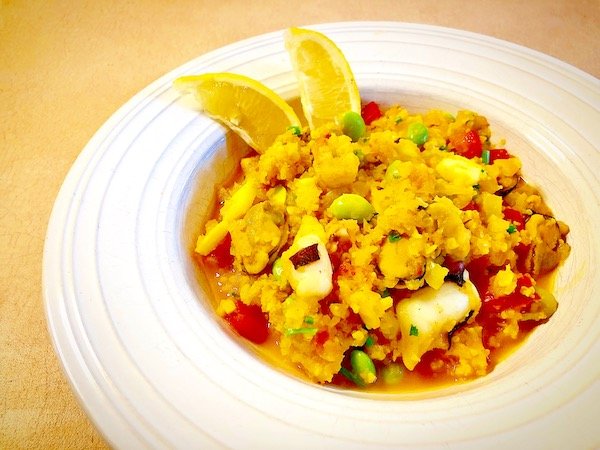 Paella is usually much more fancily done using fresh seafood and saffron cooked up in a Dutch oven with rice. A couple of tweaks to the traditional recipe make a keto-friendly and less expensive version of it so you can enjoy any time, and at a fraction of the cost.
Keto Budget Mixed Seafood Paella Recipe
Ingredients:
Directions:
Add olive oil, onion and kosher sea salt to a large deep skillet. Sauté over medium heat until the onions are soft and translucent, around 3-4 minutes. Add the garlic and anchovy paste, and sauté until fragrant, around 1-2 minutes. Add bell pepper and grated tomato to the skillet and sauté for 1-2 minutes more.

Add turmeric, smoked paprika, and cayenne to the skillet. Stir to combine and sauté until fragrant. Pour in the bone broth, stir briefly, then place a lid on the skillet.

Bring the broth to a boil then add the cauliflower rice turn the heat down to low and simmer for 8-10 minutes or until broth has reduced to a thick sauce.

Fold in the frozen seafood and edamame then cover. Let the seafood and peas cook over low heat until the seafood is heated through, around 3-4 minutes. Stir once half way through to check the seafood buried in the rice for doneness.

Once the seafood has finished cooking, top the paella with chopped parsley and serve with lemon wedges. Squeeze the lemon juice over top before eating.
Did you make this keto budget mixed seafood paella recipe? If so, please let me know how it turned out in the comments. Or if you share pics of your creations on Instagram, please tag me so I can see them. Enjoy!