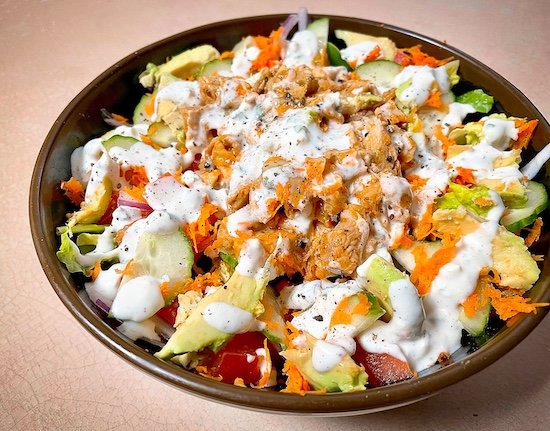 I'm a huge fan of Buffalo wings, but eating on a regular basis seems ill-advised. Enter the Buffalo chicken salad. It has everything I love about Buffalo wings, buttery hot sauce, blue cheese dressing, celery and carrot, plus more healthy veggies. Now this is something I can get on board with!
Keto Buffalo Chicken Salad Recipe
Ingredients:
2 cups romaine or salad greens, chopped
¼ cup tomato, diced
¼ cup cucumber, diced
¼ cup celery, diced
2 tablespoons carrots, finely grated
½ small avocado, sliced
2 tablespoons red onion, thinly sliced (*optional)
¾ cup cooked chicken, shredded or diced
4 teaspoons Frank's Red Hot sauce
4 teaspoons unsalted butter or ghee, melted
2 tablespoons fresh parsley or cilantro, chopped
⅛ teaspoon Worcestershire sauce
Large pinch garlic powder
3 tablespoons keto blue cheese dressing
1 small avocado, sliced
Directions:
In a large serving bowl, arrange the salad ingredients, except for the avocado, which should be sliced right before serving to avoid browning. Cover and refrigerate while you prepare the chicken.

In a bowl, whisk together the hot sauce, melted ghee, Worcestershire sauce and garlic powder. Toss with the cooked chicken. Add chicken to salad bowl.

Arrange avocado around the chicken, drizzle with blue cheese dressing and serve immediately. Enjoy!
Did you make this keto Buffalo chicken salad recipe? If so, please let me know how it turned out in the comments. Or if you share pics of your creations on Instagram, please tag me so I can see them. Enjoy! :)