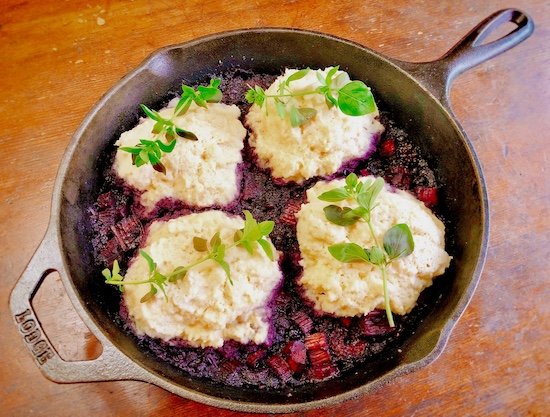 I only learned of the existence of this traditional Canadian dessert earlier this year when it was featured in a stamp collection featuring Canadian dishes. I decided then to set about making my own low-carb bumbleberry grunt recipe. Traditionally made in a cast iron skillet, it is often made as a camp dessert, which can be cooked over a campfire. The "grunts" are so-called because they make a grunting noise as air escapes while the biscuits steam in the juices of the mixture of fruit. This cooking method seems to work nicely with the mixture of keto flours and sweetened I use. I use a higher proportion of rhubarb in my bumbleberry blend to make it more keto-friendly, all of which can be made with fresh or frozen fruit. And be sure to try use the oregano on top as savoury herbs, when used in the right amounts, complement all the berries in the recipe.
Bumbleberry Ingredients:
Grunt Ingredients:
Directions:
In a medium skillet, combine the berries, sugar, and water. Bring to a boil and then reduce to a simmer until the berries have gotten slightly jammy.

While the berries cook, make the grunt. Sift together the almond flour, coconut flour, when isolate, baking powder, baking soda, salt and erithrytol. Form a well in the centre and add the egg, cider vinegar and ¼ cup of almond milk. Use a fork or pastry blender to cut in the butter until it is evenly crumbled through out the flour mixture. Gently whisk the wet ingredients together then stir in with the dry ingredients until moistened. Pour another ¼ cup of almond milk little and gently mix, adding more until you have a soft, but not damp dough.

Using an ice cream scoop, carefully place blobs of this batter directly into the bubbling bumbleberry sauce. Evenly space out the batter to help it cook evenly and cover as much of the blueberry grunt as you can.

Cover the pan with a lid or tinfoil and let it cook over low heat on the stovetop for 15 minutes. Do not lift the lid, allowing the biscuits be steamed in the berry juices.
Serve in bowls with keto vanilla ice cream or keto whipped cream, topping each grunt with a sprig of oregano. Strip the oregano leaves and sprinkle over the dessert before eating.
Did you try this keto bumbleberry grunt recipe out? If so, let me know how it went in the comments, or tag me in any photos you share on Instagram so I can see your creation. Enjoy! :)