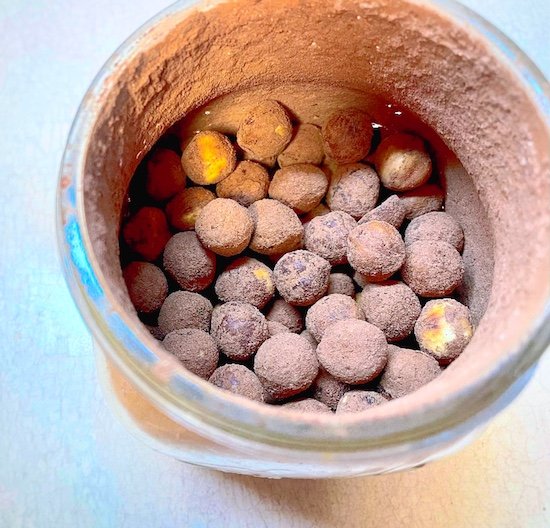 Looking for a light, sweet snacking nut for the holidays? Try these keto-friendly cacao dusted roast hazelnuts. They're quick and easy to make, and give you a nutty chocolatey snack with healthy antioxidants from raw cacao and the hazelnuts themselves. Make them for snacks or put them in a fancy jar and give them away as holiday gifts!
Vegan Keto Cacao Dusted Roast Hazelnuts
Ingredients:
Directions:
Whisk together cocoa powder, Confectioner's Swerve, espresso powder and cinnamon in a small heatproof bowl or container, preferably with a secure lid. Set aside.

Roast hazelnuts in a medium skillet over medium heat, shaking or stirring frequently. When hazelnuts begin to brown and become fragrant, transfer to the container with the cacao mixture.

Stir or shake well until nuts are coated (the cacao mixture will adhere in a thin layer to the hot nuts, but there will be some of the cocoa mixture left over). Allow to cool completely before serving.
Did you make this vegan keto cacao dusted roast hazelnuts recipe? If so, please let me know how it turned out in the comments. Or if you share pics of your creations on Instagram, please tag me so I can see them. Enjoy! :)