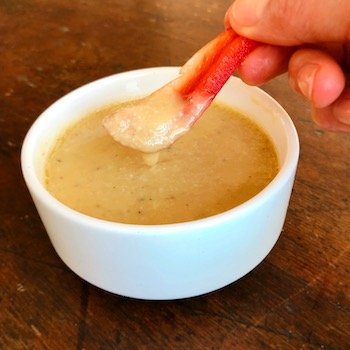 Who doesn't love a good Caesar salad? Caesar salad dressing is one of those high-fat dressings that is inherently low-carb, unfortunately the store bought varieties are usually loaded with unhealthy oils like soy or canola oils as the base. This is why I've resorted to making my own. It's a heck of a lot more flavourful when you make it fresh anyway, without adding too much hassle.
Keto Caesar Salad Dressing Recipe
Ingredients:
Directions:
In a small mixing bowl, mash together the cloves of garlic and the salt until they form a paste.

Whisk in lemon juice, Worcestershire sauce, and pepper.

Mash anchovy fillets in small bowl until they form a paste. Add anchovy paste to garlic mixture and whisk well.

Add extra virgin olive oil in a slow steady stream, beat constantly with an electric mixer on low. Add coddled egg and beat on high until colour changes and the mixture thickens then beat in Parmesan cheese until fully blended.
This recipe is enough to make a salad with around 6 cups of lettuce. If using for a single, meal sized salad, use 2 tablespoons and store the rest for later use.
Did you give this keto Caesar salad dressing recipe a try? If so, let me know how it went. Or if you share pics on Instagram, tag me so I can see your creation. :)