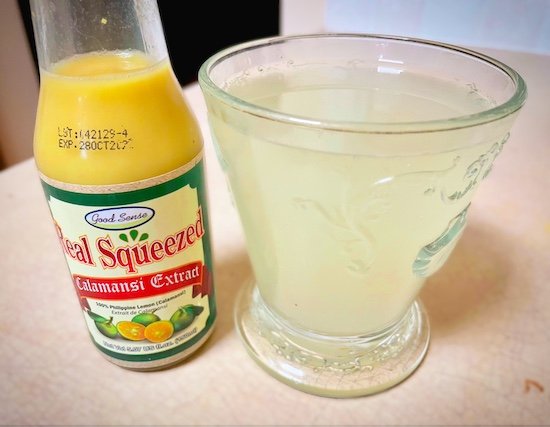 We all know that orange juice is a no-go if you're trying to stay low-carb, but you can make a perfectly keto-friendly drink using the juice of calamansi. If you've never heard of it, it's a tiny citrus fruit around the size of a loonie that tastes like a cross between a lemon and an orange. Fresh calamansi isn't exactly common in Canada, but you can buy calamnsi concentrate in a bottle at specialty stores. It has a lot of flavour, so you can combine it with water, adding liquid stevia to sweeten it to your own taste. It makes a great drink to go with a Filipino breakfast or when lounging on a sunny patio. It also makes a great mixer for a cocktail should the mood arise.
Keto Calamansi Drink Recipe
Ingredients:
½ tablespoon calamansi extract (*Find this at an Asian/Filipino grocery store.)
1 cup cold water (*Soda water also works great.)
5-20 Liquid stevia drops (to taste)
Ice cubes (if desired)
One halved calamansi for garnish (optional)
Directions:
Combine calamansi juice into the water (or soda water.)

Add stevia drops to taste and stir. Add ice and garnish with halved calamansi if using.
Did you make this vegan keto sugar-free calamansi drink recipe? If so, please let me know how it turned out in the comments. Or if you share pics of your creations on Instagram, please tag me so I can see them. Enjoy! :)