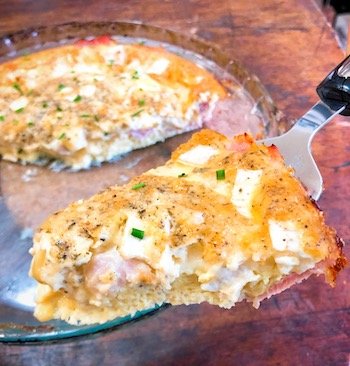 I had some back bacon and some brie that needed to get used up. I also had lots of eggs. Boom, new recipe idea: a very keto-friendly Canadian back bacon brie quiche. Is a quiche really a quiche without a crust, rather than a fritatta? In this case, because the back bacon is sliced and laid out along the bottom like a crust, I say it's a quiche.
Keto Canadian Back Bacon Brie Quiche
Ingredients:
Directions:
Arrange Canadian bacon on the sides and bottom of a lightly greased 9-inch pie dish. Spread the cubes of Brie evenly on top of the bacon.

Whisk together eggs, heavy cream, mayonnaise, pepper, Parmesan cheese, and herbs de Provence.

Pour into prepared pie dish. Bake at 375F for 30-35 minutes or until a knife inserted in the center comes out clean. Let stand for 7 minutes. Top with fresh chives, slice and serve.
Did you give this keto Canadian back bacon brie quiche recipe a try? How did you like it? Please share your thoughts in the comments. And if you post any pics on Instagram, please tag me so I can see them. Enjoy! :)