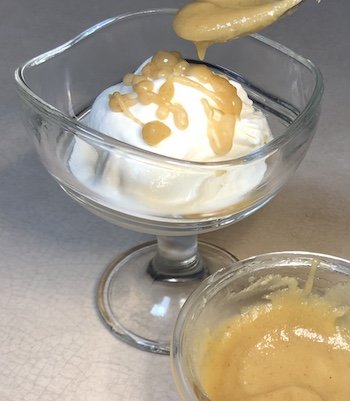 Of all the dessert sauces, caramel is by far my favourite as a topping for ice cream. It also plays well on pancakes/waffles, tarts, bars and other confections. It's well worth whipping so up and having it kicking around for when the mood strikes.
Keto Salted Caramel Sauce Recipe
Ingredients:
Directions:
Melt the butter over medium heat in a medium pan and let it cook until golden brown, around 3-4 minutes, stirring occasionally, watching it carefully to avoid burning it.

Stir in the heavy cream and bring to a gentle boil. While you wait for it to boil, whisk in sweetener and salt. Reduce heat to low and allow to simmer gently for 7-10 minutes, stirring occasionally, until it is a caramel colour and thick enough to coat the back of a spoon. (*Note: if you increase the recipe, you'll need to increase the cooking times or use a larger pot.)

Remove from heat. Whisk in the caramel extract. Pour the caramel into a glass container. Continue to stir while it cools and thickens. Use right away and pour over keto vanilla ice cream, or or store in the fridge for future use. (*Note: It will harden and you'll need to be soften it by heating it up in the microwave or on the stove to make it the right consistency.)
How did this salted caramel sauce recipe work out for you? What kinds of desserts did you use it with? Please share in the comments. Or if you share any pics on Instagram, please tag me so I can see your creation. Enjoy!