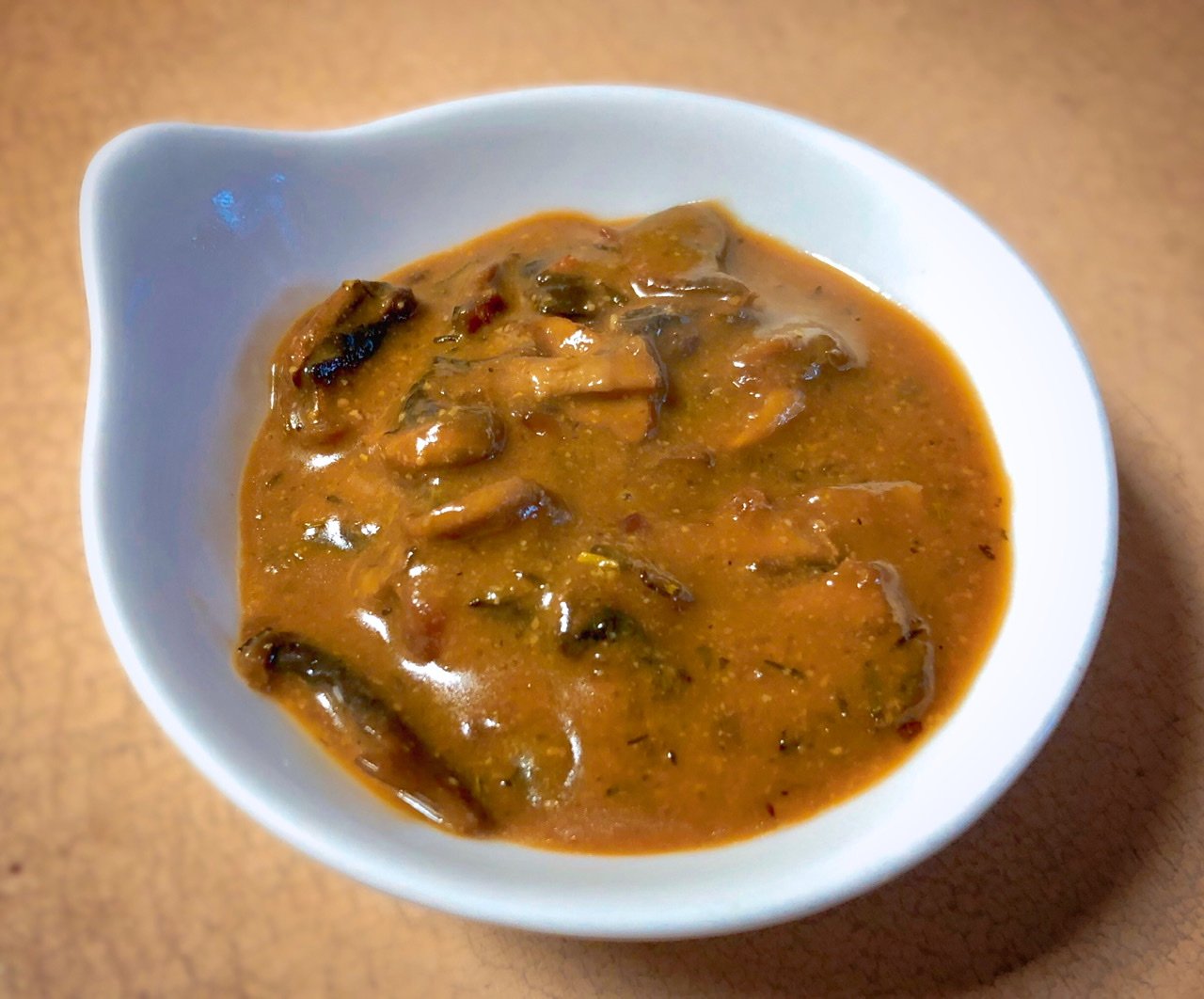 I had this gravy recently at work and was dying to recreate it. When I thanked the caterers, I asked them what they used in their miso mushroom gravy the secret of which lied in caramelizing the onions, bringing out their sweetness, linking together the salty taste of the miso and the acidity of the red wine vinegar. This gravy is easy to love, whether you're vegan or not!
Keto Caramelized Onion Miso Mushroom Gravy Recipe
Ingredients:
Directions:
Heat the avocado oil in a frying pan over medium heat. Add the onions and fry for a few minutes until they start to soften. Add the garlic and then turn the heat down to medium-low and continue to cook for 15-20 minutes, stirring regularly till the onions have browned and softened.

Turn heat down to low and continue to cook gently for another 6-8 minutes then add the mushrooms and thyme and cook until the mushrooms are browned and the onions are a deep brown and sweet. Remove from heat and set aside.

In a small saucepan, whisk together broth, Dijon mustard, and red wine vinegar and bring to a simmer. In a small bowl, mix the miso with a couple of tablespoons of the simmered liquid to loosen it, then whisk back in the miso until smooth. Stir in the onions and simmer for 1-2 minutes to allow the flavours blend.

Sprinkle inn glucomannan then whisk in until smooth and sauce has thickened. Taste and add black pepper to taste. Remove from heat and serve warm or if not using right away, set aside and warm the sauce again before serving. Serve over vegan meatballs or patties (or standard meat patties or balls) on a bed of cauliflower rice.
Did you make this vegan keto caramelized onion miso mushroom gravy recipe? If so, please let me know how it turned out in the comments. Or if you share pics of your creations on Instagram, please tag me so I can see them. Enjoy! :)