I recently went on an impromptu road trip to Kelowna with a friend for the day. Somehow the discussion in the car landed on how much we both loved cheese and how I like to go to artisan cheese shops when I'm on vacation. She then told me of Carmeli's Goat Farm Cheese Shop in Kelowna and we decided to add it to our itinerary for the day.
The Cheese Tasting Experience: A Masterful Presentation
When we showed up, we were asked if it was our first time visiting. We told our host cheese-maker it was and so began our tasting journey. She had a wide variety of their cheeses pre-cut and ready for tasting.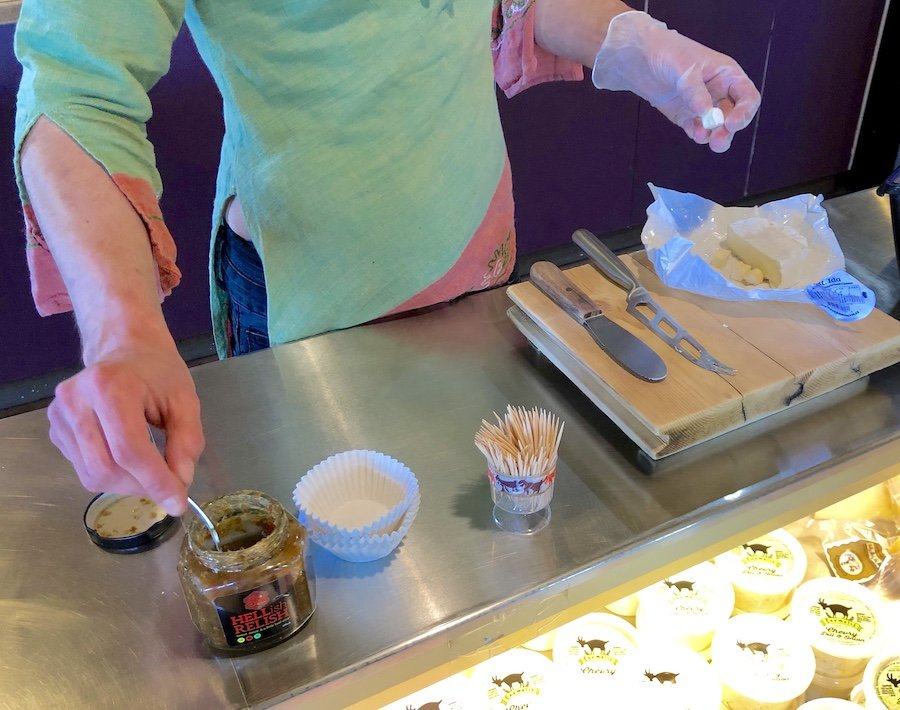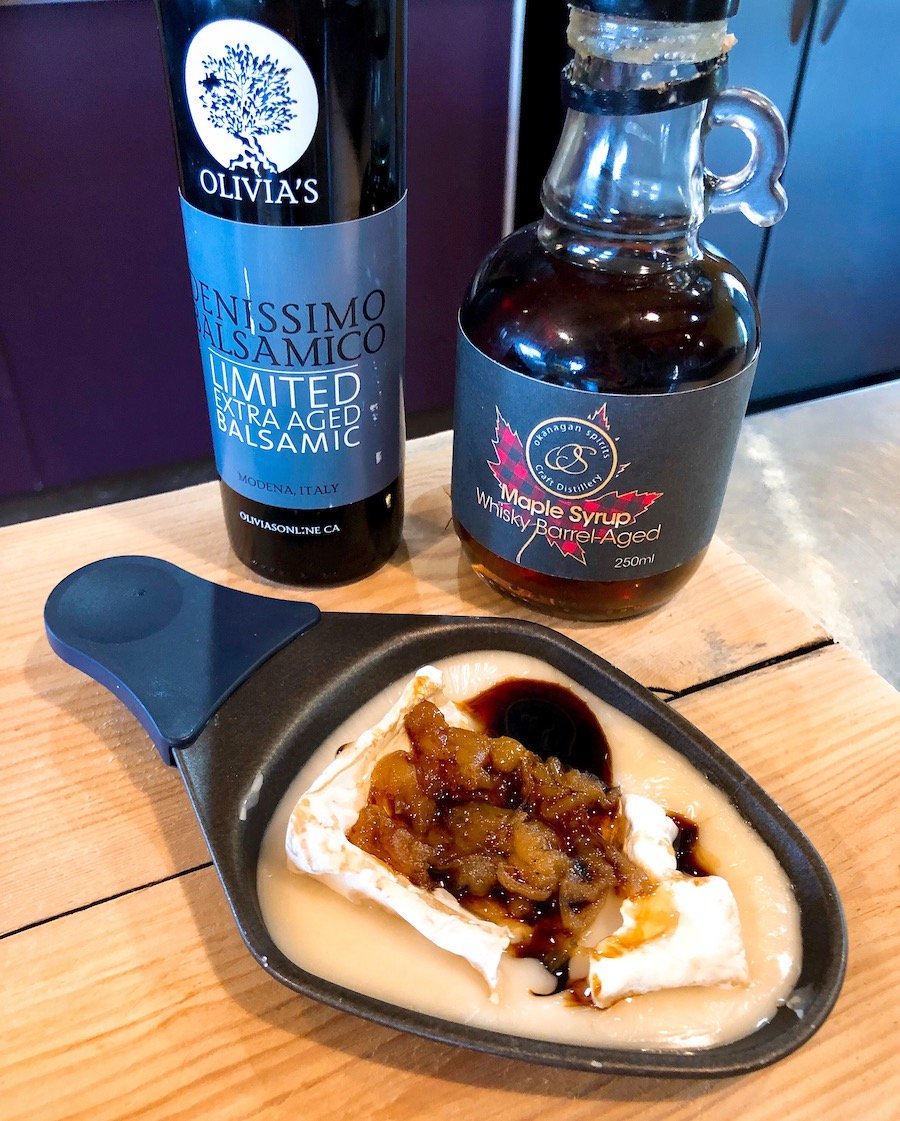 Being one of the company's actual cheese artisans, she knew her stuff and had even personally made many of the selections, and each had its own story to be told in how it was made. She was incredibly passionate about the process and results, which came through as she described each one.
Each cheese was more delicious than the next, but I particularly appreciated the presentation of the Blue Velvet, a particularly soft Brie-like cheese that when cut, practically poured out of its rind. Our hostess heated up a chunk on a raclette stove with an onion jam made specially for it, then topped it with a little balsamic vinegar and maple syrup. It was truly divine, and made me want to experiment with making my own keto version of the dish.
With the raclette machine going, our hostess even heated up a couple of pieces of their own halloumi cheese, which was so fresh and tasty, and heated up so perfectly I couldn't help but grab one out of the fridge to take home.
Fresh, Soft-Ripened and Hard Cheeses A-Plenty
While we didn't get to taste any of the fresh cheeses, there were more than enough hard and semi-ripened ones that I was not disappointed in the least. Of the hard cheeses, my favourite was the tom, which was so recently made it wasn't even labeled yet. Despite being newly made, it had a bit of an edge to it and I feel it would become even more interesting as it ages. Of the semi-ripened varieties, I loved the Heavenly, which was true to its name with a light exterior, a subtle floral taste with a light, tart finish and an almost crumbly texture. The Blue Velvet, which I already described, was definitely a hit with me as well.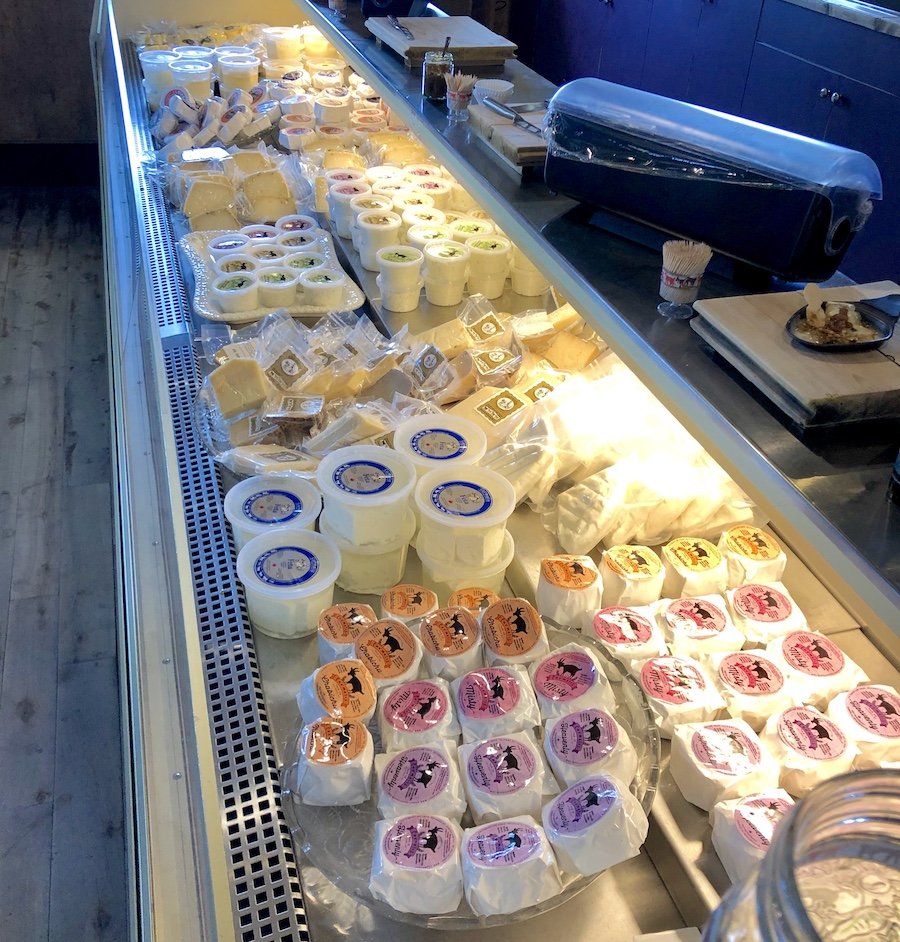 Terroir Cheeses in the Spotlight
Also featured Carmeli's store offerings was cow's milk hard cheeses from another local cheese-maker, Terroir Cheese. Each one included was fantastic and it was hard for me to choose just one... so I bought my two favourites: a French gruyere, Comté, with a smoother, milder yet more complex version of a standard gruyere, it would be fantastic in a cheese fondue or paired with a Chardonnay. The Jurassic was probably my favourite, an artisanal, pressed non cooked cheese with natural brushed rind made with unpasteurized milk. It has a stronger yet slightly creamy hard cheese with a bit of bite that lingers on the tongue.I would definitely like to see more of Terroir Cheese's offerings in the future.
A Cheese Experience Not to Be Missed
As far as cheese tastings go, the presentation at Carmeli's Cheese Shop was artfully done and would be appreciated by any real cheese love like myself. That alone, makes it worth a visit the next time you're in Kelowna. It led to me spending over $100 on cheese alone. Top this off with a serving of their in-house goat's milk gelato for a sweet finish, which they'll also let you taste before buying, and you've practically got yourself a meal. Unfortunately, there are no sugar-free selections in their gelato, as good as they are. If you're going to go and be strict on your keto, you should probably give it a miss (though I would like to see that change in time for my next visit!).