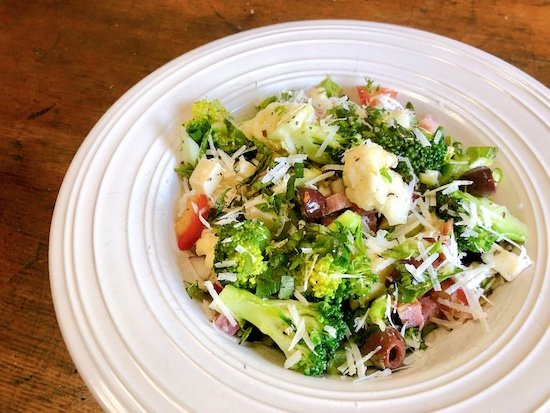 Most cauliflower/broccoli salads are made with creamy dressings, but this one is made with an Italian-style vinaigrette instead. Throw in some chopped salami and a mild Mediterranean cheese and you've got a filling salad that isn't so heavy on the dairy. Most people don't realize it, but cauliflower leaves are in fact edible. I figured why not add some to the salad which to bring some fresh greens with a little extra crunch.
Dressing Ingredients:
Salad Ingredients:
1 head broccoli, chopped into small florets
½ head cauliflower, chopped into small florets
1½ cups cauliflower leaves, chopped
1 cup chopped salami or cooked ham
1 cup halved cherry or grape tomatoes (*Or diced tomatoes)
¼ cup red onion, diced
½ cup kalmata olives, halved
2 teaspoons capers, drained
8 oz provolone, mozzarella cheese, or manchego cubed
2 tablespoons roasted pumpkin seeds
Garnish:
Grated Parmesan or Romano cheese
¼ cup fresh herbs, chopped, (i.e. basil, oregano, parsley)
Directions:
Bring a big pot of water to a boil and season it heavily with salt, like you would pasta water (it should taste like the ocean). While the water is coming to a boil, make the dressing by whisking all the ingredients together in a Pyrex measuring glass. Store in the fridge until ready to use.

Add the broccoli and cauliflower florets to the water and cook for 60 seconds, The broccoli should be bright green in color, but still a little crispy. Immediately drain the florets, then rinse with cold water for 2 minutes, until it has all cooled down.

Drain the florets and allow to dry completely. Blot dry with a clean kitchen towel to prevent any liquid from watering down the dressing.

Pour the dressing over the salad and toss to coat everything. Chill the salad for at least 30 minutes then serve whenever you're ready.
Did you make this keto cauliflower broccoli and ham salad recipe? If so, please let me know how it turned out in the comments. Or if you share pics of your creations on Instagram, please tag me so I can see them. Enjoy!