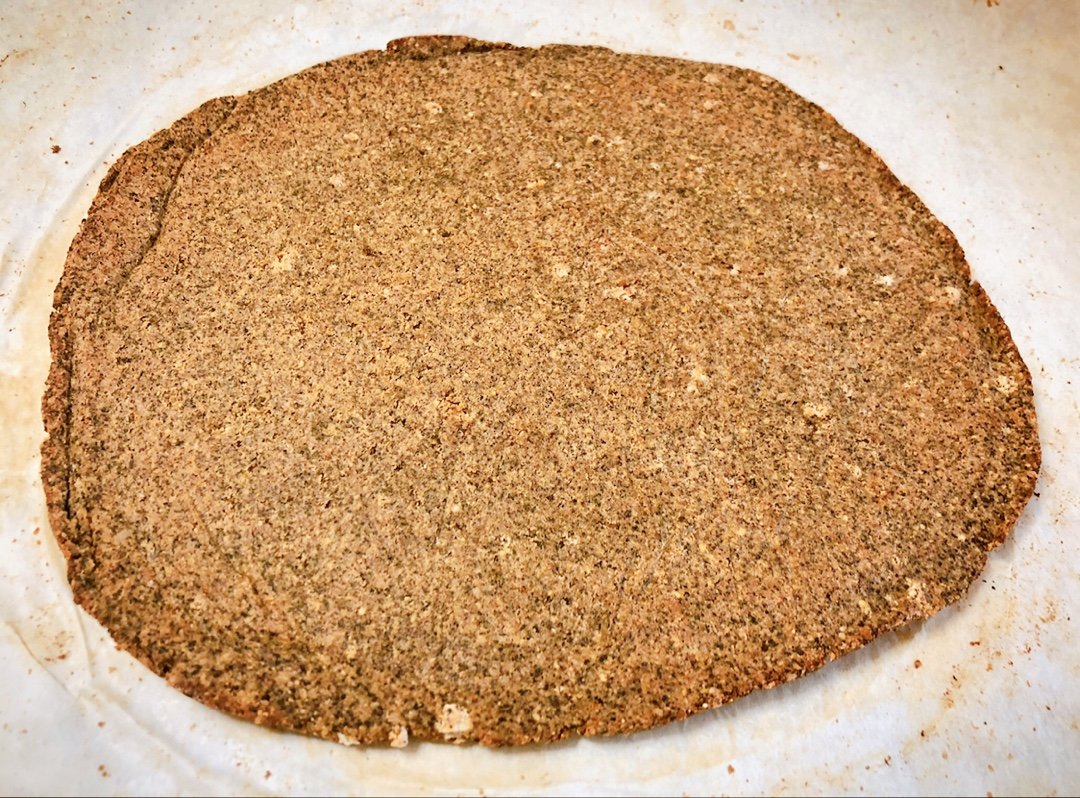 While I love the taste and texture of my Ketofied Pizza Crust recipe, it's a little denser in terms of calorie count due to the amount of cheese in it. I wanted to have a slightly lighter, vegetable-based crust to use, particularly when I'm doing toppings that are already higher fat/calories, so it's not so heavy. That being said, most cauliflower crust pizza are also high in fat due to the amount of cheese and egg they have, plus they usually don't have the right texture and taste. While this recipe isn't quite as good as my other pizza crust recipe (in terms of texture and taste), it works well pizzas that are fattier/meatier and/or cheesier.
Cauliflower Crust Pizza Recipe
Ingredients:
Directions:
Cook the cauliflower rice in the microwave for 4-5 minutes on high or until tender. Line a colander with a cheese cloth or clean kitchen towel and allow to cool until it is cool enough to handle with your bare hands.

Preheat oven to 425F. Wrap the cauliflower rice with the cloth and squeeze tightly to wring out all the water. You want to get as much of the water out as possible. The more water you squeeze out, the crispier the crust will be.

Spread out the cauliflower on sheet pan lined with parchment paper or a silicon mat and bake for 12 minutes, mix well, and bake another 8-12 minutes, or until golden. Make sure you keep an eye on it at this point as it can be easy to overdo it accidentally. Remove from oven and allow to cool for 10 minutes.

In a large mixing bowl, beat one egg then add the cooked cauliflower rice along with remaining ingredients. Mix well with a silicon spatula. If it seems a little too dry to work with, add a tiny bit of water to turn it into a more workable batter.

Add mixture on baking sheet tray lined with parchment paper, place another piece of parchment paper on top. Use a rolling pin or your hands to spread out the mixture into two crusts around ¼" thickness, about 10" in diameter. Peel off the top parchment paper, and use a small silicon spatula or knife to push the edges of the dough in to form a crust wall.

Bake the crusts in preheated oven for about 15-20 minutes or until it is a deep golden brown.

Remove from oven and top with sauce, cheese, and your favourite toppings. Use a sauce that isn't too liquid otherwise it will soak through and become soggy. Bake for another 7-10 minutes, or until the cheese is melted and bubbly. Remove from oven, slice and enjoy!
Did you make this keto cauliflower pizza crust recipe? If so, please let me know how it turned out in the comments. Or if you share pics of your creations on Instagram, please tag me so I can see them. Enjoy! :)