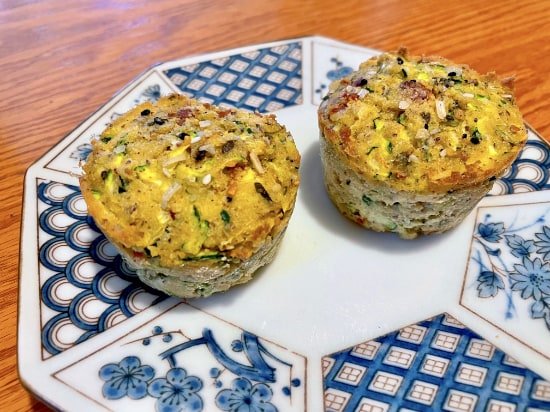 I wanted a healthy snack that was high in protein, but also had a good portion of veggies too. This keto-friendly cheesy zucchini muffin is a savoury saviour in the form of a gluten-free pastry. Eat it as is or pop it in the microwave if you want a hot snack, it works either way!
Keto Cheesy Zucchini Breakfast Muffins Recipe
Ingredients:
Directions
Preheat oven to 350F. In a mixing bowl, add the zucchini, melter butter, olive oil, ground flax, salt and pepper and mix well.

Add the eggs, oregano, garlic powder, chili flakes (if using) and baking powder. Mix well.

Add coconut flour, whey protein, and oat fibre and mix until the batter becomes thick. Fold in the cheddar cheese and bacon.

Line the holes of a standard muffin tin with silicon cupcake molds and evenly divide the mixture between the holes (or use a silicon muffin tray). Bake for 25-30 minutes, or until the muffins are golden. Allow to cool for 5 minutes before enjoying. Store in an air tight container in the fridge for up to 1 week or in the freezer for up to 3 months. Enjoy at room temperature or pop them into the microwave to warm them up.
Did you make this keto cheesy zucchini muffin recipe? If so, please let me know how it turned out in the comments. Or if you share pics of your creations on Instagram, please tag me so I can see them. Enjoy! :)