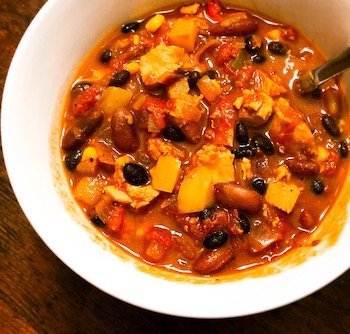 I feel like chili is one of those things that's just better with beans in it, which is why I like to do it as a carb-up recipe. Plus, I throw in shredded carrots for a little extra bulk and b-vitamins. It's a great meal to help you warm up on cold fall or winter carb-up days.
Carb-Up Chicken Bean Bonanza Chili Recipe
Ingredients:
Spray a large saucepan with non-stick spray. Sauté red onions, garlic, green pepper, jalapeño peppers and carrots over medium heat until tender, about 7 minutes.

Reduce heat to medium-low and spices and sauté until fragrant, around 1-2 minutes.

Cover and simmer for 20 minutes, stirring occasionally.

Add chicken and canned beans cook for 5 more minutes.

Sprinkle fresh cilantro on top and serve with a light sprinkle of low-fat Greek yogurt, baked tortilla chips and a small amount of low-fat shredded cheese or avocado if you want/need the fat for flavour.
What are your favourite ways to make chili, carb-up or otherwise? Please share your ideas in the comments. And if you make this recipe, let me know how it goes in the comments or by tagging me in your Instagram pics. :)