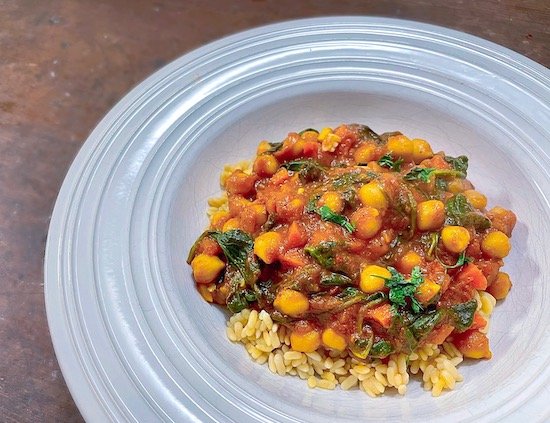 Chickpeas are a common choice for vegan curries, but this recipes adds in spinach, which I like for getting in the extra nutritional content while on a carb-up day. The chickpeas, are great for absorbing all the flavours of the spices, while also adding a wonderful base texture. This recipe is an awesome choice for a vegan carb-up day.
Vegan Carb-Up Chickpea Spinach Curry (aka Channa Palak Masala) Recipe
Ingredients:
Directions:
Heat the oil in a large pan over a medium-high setting. Sauté the onion with sprinkle of salt until golden.

Add the garlic and ginger and cook for 1-2 minutes, stirring frequently, until the garlic doesn't smell raw anymore.

Stir in the coriander, turmeric, cumin, and cayenne, and toast for 2 minutes stirring often.

Add the tomato paste, chickpeas and vegetable stock. Increase the heat to high and once boiling, lower to medium-low to maintain at a simmer for 10 minutes, stirring every now and then.

Add ½ teaspoon salt and the spinach. If the spinach is frozen, increase the heat until the curry is bubbling away again. Simmer for an additional 5 minutes.

Add the garam masala, lemon juice, and stir. Sprinkle the chopped cilantro leaves over top and serve hot.
Did you make this vegan carb-up chickpea spinach curry recipe? If so, please let me know how it turned out in the comments. Or if you share pics of your creations on Instagram, please tag me so I can see them. Enjoy! :)