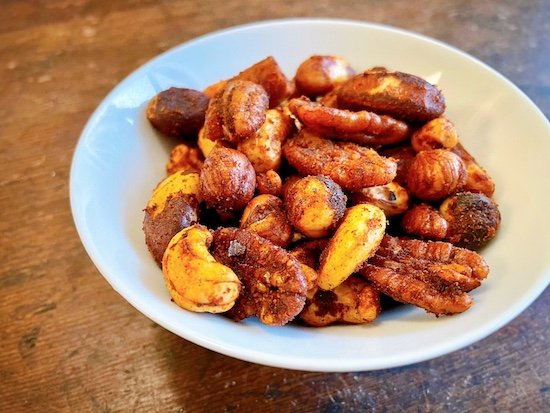 I can't believe it has taken me so long to throw a flavoured roast nuts recipe together. This vegan keto chile lime mixed roast nuts recipe is the bomb! It uses avocado oil to roast them rather than all the unhealthy vegetable oils that have flooded commercial flavoured roast nuts. And using fresh lime and spices, you get a more intense punch of the chile-lime flavour. You won't want to go back to store-bought after trying this recipe. Enjoy them on your next movie night, or throw them into a nice mason jars and give them as a holiday gifts for friends and family!
Vegan Keto Chile Lime Mixed Roast Nuts Recipe
Ingredients:
Directions:
Mix ingredients together, allowing the almonds to soak up a bit of their marinade, around 10-15 minutes. Preheat oven to 350F.

Arrange the nuts in a single layer lined with a silicon mat or piece of parchment paper, and bake 20–25 minutes, stirring every 5 minutes or so. Allow to cool completely on the tray. Store in an air-tight jar for up to a month.
Did you make this vegan keto chile lime mixed roast nuts recipe? If so, please let me know how it turned out in the comments. Or if you share pics of your creations on Instagram, please tag me so I can see them. Enjoy! :)