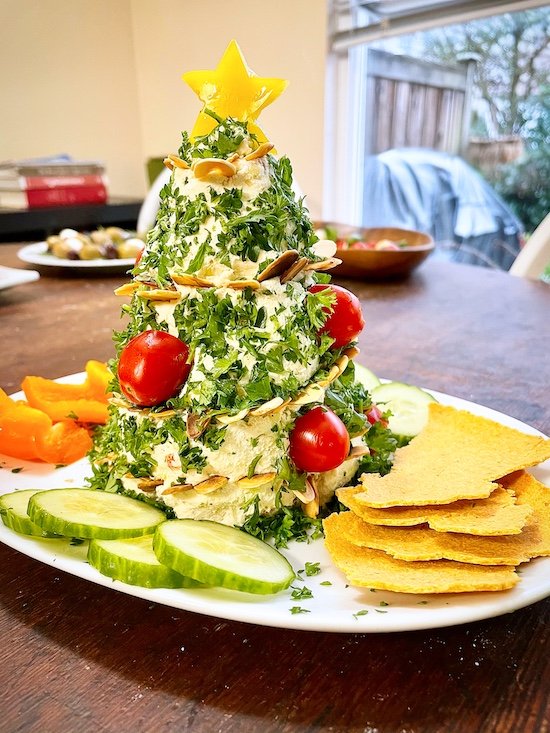 Cheese balls are eminently keto, and widely enjoyed over the holiday season. Why not kick up the festiveness a notch and shape it and decorate it like a Christmas tree? It's easy to do and adds a bit of fun and whimsy to any holiday appy table.
Keto Christmas Tree Cheese Ball Appetizer Recipe
Ingredients:
One 8oz package brick cream cheese, softened
2 cups aged white cheddar cheese, finely grated
2 green onions, chopped
2 oz pimientos, drained and diced
2 tablespoons unsalted butter, melted
½ tablespoon Worcestershire sauce
⅛ teaspoon garlic powder
⅛ teaspoon fine sea salt, or to taste
⅛ teaspoon freshly ground black pepper, or to taste
Garnish Ingredients:
4 grape tomatoes (*Or diced sun-dried tomatoes)
1 cup fresh parsley, finely chopped
¼ cup sliced almonds, toasted
1 yellow pepper, cut into a star, may also use for chopped pieces as garnish
Directions:
In a medium mixing bowl, beat cream cheese until fluffy. Beat in cheddar cheese, onions, pimientos, butter, Worcestershire sauce, garlic powder, salt, and pepper. Cover and refrigerate for at least one hour.

Roll and press the cheese ball mixture into the shape of a Christmas tree. Garnish first sliced almonds then add parsley, followed by the tomatoes and peppers. Serve with keto crackers, sliced keto bread, and/or cut veggies.
Did you make this keto Christmas tree Cheese ball appetizer recipe? If so, please let me know how it goes in the comments. Or if you share pics of your creations on Instagram, please tag me so I can see them. Enjoy! :)