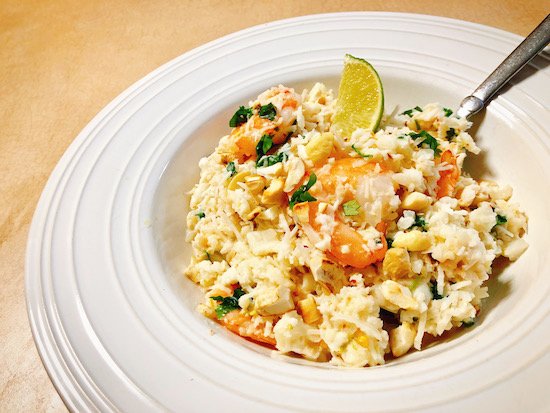 This meal, cilantro lime shrimp over coconut cauliflower rice was made for me as my last meal before heading out to hike the West Coast Trail. It was delicious and satisfying, and I remembered thinking that I must replicate this meal at home some time. I made a couple of minor tweaks, but it's essentially the same thing; layers of coconut flavour and texture with tangy lime and cilantro for a deliciously balanced, low-carb, Keto-friendly meal.
Keto Cilantro Lime Shrimp Over Coconut Cauliflower Rice Recipe
Ingredients:
4 teaspoons coconut oil, divided
4 cups cauliflower rice
¼ cup yellow onion, diced
6 medium garlic cloves, minced
300g raw shrimp, peeled and de-veined
½ cup cilantro, chopped
1 medium lime, juiced
1 tablespoon lime zest
½ teaspoon crushed red pepper flakes
3 tablespoons roast cashews, chopped
Directions:
Preheat non-stick skillet to prepare cauliflower rice. Heat 1 teaspoon coconut oil and sauté the unsweetened coconut flakes to slightly brown.

Stir riced cauliflower into skillet. Sauté ingredients until coconut flakes are toasted and riced cauliflower is softened. Remove the coconut flakes and riced coconut from the skillet, and cover in a dish until ready to serve.

Using the same pan, sauté the remaining coconut oil, garlic, and onion until fragrant.

Stir in coconut milk and bring to a simmer, allowing the sauce to reduce for 5 minutes.

Place the shrimp in an even layer in the coconut sauce and cook on medium-low until the shrimp is soft and just begins to curl in. This should take 3-5 minutes.

Gently stir in lime juice, lime zest, cilantro. Spoon into bowls and top with crushed red pepper and chopped cashews.
Did you make this keto cilantro lime shrimp over coconut cauliflower rice recipe? If so, please let me know how it turned out in the comments. Or if you share pics of your creations on Instagram, please tag me so I can see them. Enjoy! :)