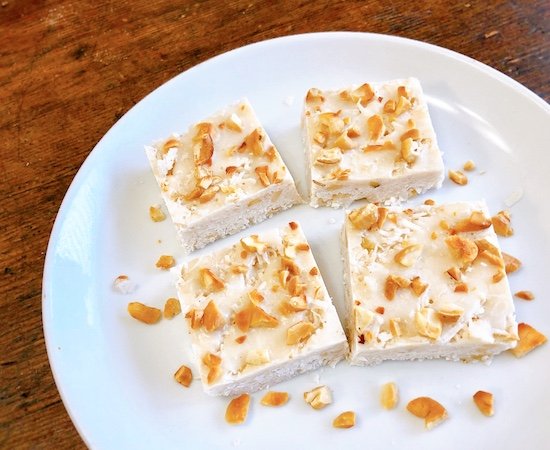 Delicious and easy to make, these vegan keto coconut cashew bars are also nut-free making them suitable for anyone with almost any dietary restriction. You can swap out the cashews for more shredded coconut too if you want to make them even easier, but I like the added crunch that they add.
Vegan Keto Coconut Cashew Bars Recipe
Ingredients:
Directions:
Pre-heat oven to 250F. Drain your cashews then spread onto baking sheet Bake for 20 minutes, remove to flip then bake for another 20 minutes or until golden brown. Allow to cool.

Line an 8x8" pan with parchment paper. In a large mixing bowl, stir together coconut and cashews (reserve 3 tablespoons of cashews for garnish). Add melted coconut oil, vanilla, ginger, allspice and Lankanto maple syrup and mix until a thick batter remains. If it is too crumbly, add a little extra syrup or a tiny bit of water.

Pour the mixture into the lined pan. Lightly wet your hands and press firmly into place. Put in the freezer or fridge until firm.

In a microwave safe bowl, melt together coconut manna and coconut oil in 20-second intervals, stirring between each, until fully melted. Stir in vanilla stevia drops. Drizzle over top of the bars then sprinkle with reserved cashews and flaky sea salt. Refrigerate until the top has set. Cut into bars and enjoy! Store in a covered container at room temperature for up to 7 days, in the fridge for up to 1 month, and in the freezer for up to 3 months.
Did you make this vegan keto coconut cashew bars recipe? If so, please let me know how it turned out in the comments. Or if you share pics of your creations on Instagram, please tag me so I can see them. Enjoy!