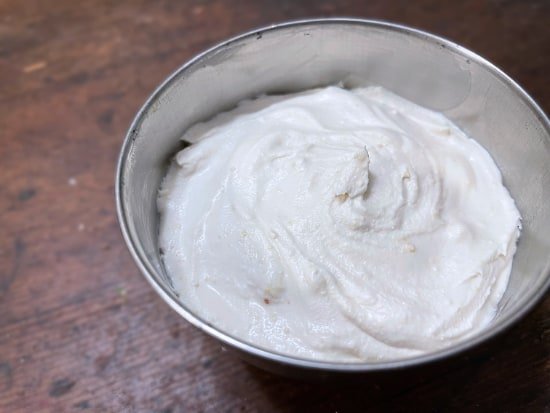 Sure you can buy vegan cream cheese at grocery stores, but they are often thickened with higher carb ingredients. So why not make your own? It's easy, and you can culture it similarly to making yogurt. Then spread it on bagels on pop it into recipes for a dairy-free option to cream cheese.
Vegan Keto Coconut Cream Cheese Recipe
Ingredients:
Directions:
Carefully remove the chilled can of coconut milk from the refrigerator, using care not to tip or shake the can. You want to keep the solid milk separate from the coconut water.

Open the can. Using a knife, trim around the edges of the can to loosen the solid milk. Slide the solid cream out without tipping the can. Place the cream into a bowl. Reserve the coconut water for smoothies or shakes, if desired.

Add the the lemon juice to the coconut milk. Stir well to combine. Place coconut milk mixture into a nut bag or clean handkerchief nestled inside a coffee-filter-lined strainer over a bowl. Cover with a coffee filter, if desired.
4.Place in a cool, dark place, such as the microwave or oven. Allow sit for 24-36 hours to drip off the excess liquid and become cultured. Taste after 24 hours to check the tang level. The longer it sits, the more the tang will develop. Don't go past 36 hours.
Transfer the creamy, semi-firm mixture to a container with a lid. Stir in glucomannan, nutritional yeast and kosher salt. Cover bowl and store in fridge for at least 6 hours to allow cream cheese to solidify and chill. Ready to serve when firm.
(*Note: Homemade coconut cream cheese doesn't work great in baked recipes.)
Did you make this vegan keto coconut cream cheese recipe? If so, please let me know how it turned out in the comments. Or if you share pics of your creations on Instagram, please tag me so I can see them. Enjoy! :)