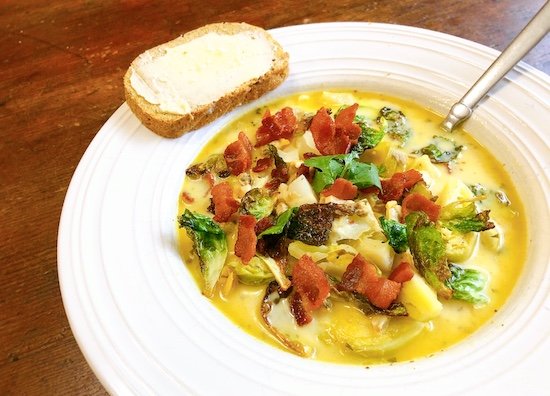 We all know the typical clam chowder recipes for North America, usually cooked with butter and cream as a base, but what about a chowder for someone who doesn't eat dairy? This keto-friendly coconut curry clam chowder puts a refreshingly different spin on a classic recipe, using Thai flavours and seasoning to go with the coconut milk base.
Keto Coconut Curry Clam Chowder Recipe
Ingredients:
1 cup rutabaga, peeled and diced into ½" cubes (*May sub with cauliflower, a great use for cauliflower stems.)
1 cup Brussels sprouts, bottoms cut, quartered, leaves separated
4 oz bacon, finely chopped
1 tablespoon fennel fronds, finely chopped (*May sub with fresh tarragon.)
½ cup shallots (or yellow onion), diced
2 garlic cloves, thinly sliced
2 tablespoons Thai green curry paste
3 tablespoons rice vinegar
1 teaspoonfish sauce
One 14 oz can full-fat canned coconut milk
¼ cup lime juice, freshly squeezed
3 6.5 oz cans chopped clams, juice included with their juices
Flaky sea salt (like Maldon or Fleur de sel and freshly ground black pepper
Cilantro sprigs for garnish
Directions:
Cook the rutabaga and Brussels sprouts and in a medium saucepan of salted boiling water just until tender, about 5 minutes. Drain.

In a large saucepan, cook the bacon over medium heat, stirring occasionally, until golden and crispy, around 7 to 8 minutes. Remove bacon and add to paper towel. Add the reserved sprout leaves to the skillet and cook until crispy. Add to the paper towels with the bacon.

Add the shallot or yellow onion and sauté until softened, around 2-3 minutes. Add fennel (or tarragon), garlic and green curry paste and cook, stirring, until fragrant, around 1-2 minutes. Add the rice vinegar and fish sauce and simmer for 1 minute. Add the coconut milk and lime juice and return to a simmer.

Add the cooked rutabaga and Brussels sprouts, chopped clams and their juices. Cover and simmer on medium-low for 5-7 minutes. Season with salt and pepper. Garnish with reserved bacon, sprout leaves, and cilantro and serve warm.
Did you make this keto coconut curry clam chowder recipe? If so, please let me know how it goes in the comments. Or if you share pics of your creations on Instagram, please tag me so I can see them. Enjoy! :)