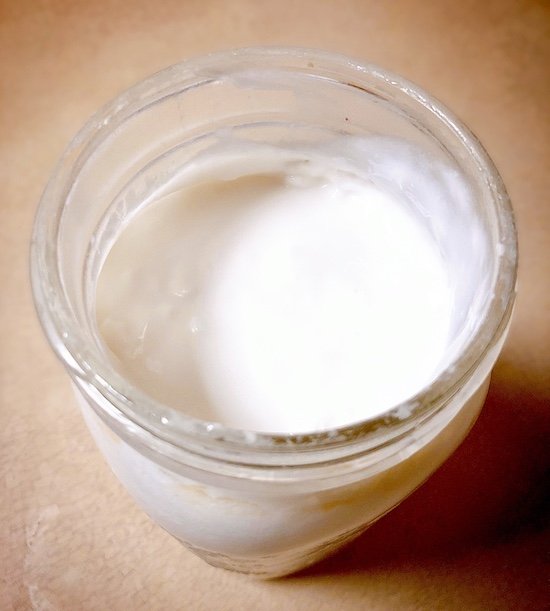 In my efforts to reduce the amount of dairy I eat, I decided to try my hand at making a low-carb coconut milk yogurt, using a combo of canned coconut milk and cream for extra fat. Be warned: it's not quite as easy as making dairy yogurt. It's quite a bit more finicky a process, but now I've got my process down after some trial and error. This is that recipe.
Keto Coconut Milk Yogurt Recipe
Ingredients:
Directions:
Combine coconut milk and maple syrup in a medium saucepan over medium heat. Heat the milk, stirring occasionally, until it begins to steam and registers about 180 degrees on an instant-read thermometer.

In a small bowl, combine about ¼ cup hot milk with the gelatin (or agar agar). Whisk until smooth then pour back in with the rest of the milk.

Put the pot into a sink of cold water and allow milk to cool, stirring occasionally, until it registers 115 degrees. Remove from the sink.

Sprinkle yogurt starter over the surface of the milk. Whisk thoroughly until combined. If using yogurt as a starter, add it to a small bowl and pour in a cup of milk then whisk it and whisk it back with the rest of the milk. Pour milk mixture into a 1-quart glass canning jar and secure a clean paper towel over the top. Transfer jar to an oven and turn on the oven light. Let the yogurt sit, undisturbed until set, about 12-14 hours.

Remove the paper towel from the jar, stir the yogurt and seal with a lid. It won't be thick until it has a chance to chill and set. Refigerate at least 5-6 hours. Stir before serving.
Did you make this keto coconut milk yogurt recipe? If so, please let me know how it turned out in the comments. Or if you share pics of your creations on Instagram, please tag me so I can see them. Enjoy! :)