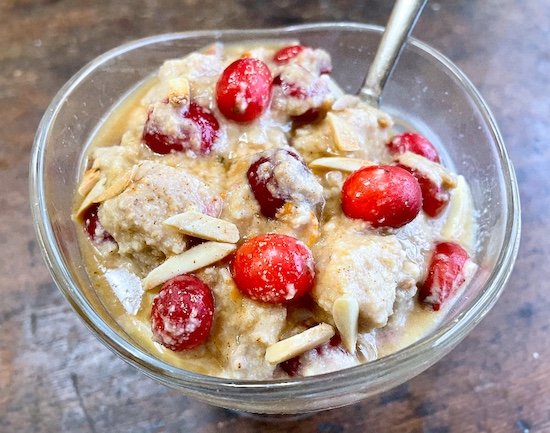 Looking for a dessert to use up extra bread you have kicking around? This keto-friendly cranberry orange bread pudding is just the ticket. The flavours used make it a great choice for a Thanksgiving or Christmas dessert, but it's so good and easy to do, you may find yourself whipping up a batch any time of year.
Keto Cranberry Orange Bread Pudding Recipe
Bread Pudding Ingredients:
Sauce Ingredients:
Directions:
In a small bowl, whisk together the rum, orange extract and confectioner's Swerve. Add cranberries to a wide bowl and pour the mixture over them. Allow to soak for at least 4 hours or up to overnight.

Add bread cubes to a 1-quart casserole dish, then sprinkle with the cranberries and rum mixture.

In a small bowl or jug, beat the eggs then add the non-dairy milk, cream, 2 tablespooons sweetener, orange zest, ground ginger, and cinnamon, and continue to beat until all the ingredients are well combined. Pour the mixture over the bread cubes and cranberries. Allow to soak for 30 minutes.

Preheat oven to 375F. Garnish the top by sprinkling with cinnamon and nutmeg then bake for 30-35 minutes or until the pudding is puffed and lightly golden.

While the cranberry orange bread pudding is baking, make the orange sauce by melting the butter in a small pot over medium heat. Whisk in the erithrytol gold and salt until melted, then whisk in the cream. Turn heat down to low and allow to simmer for about 5-6 minutes, then remove from heat and add extracts.

Serve the cranberry orange bread pudding while still warm, scooping it into bowls then topping it with the warm orange sauce and toasted nuts (if desired). You can make both ahead of time and reheat them just before serving too.
Did you make this keto cranberry orange bread pudding recipe? If so, please let me know how it turned out in the comments. Or if you share pics of your creations on Instagram, please tag me so I can see them. Enjoy! :)