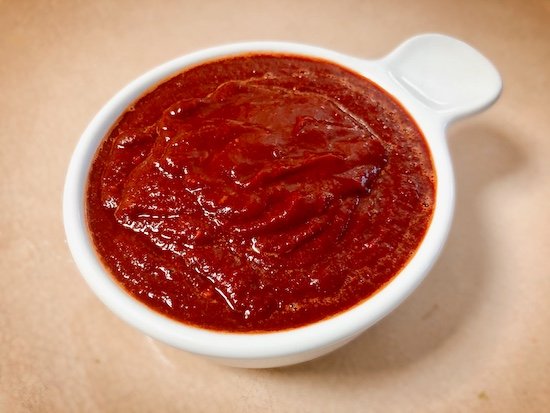 One thing I've always loved in Mexican sweets is the combination of sweet, sour and spicy that usually comes in some sort of fruit candy, or in chamoy sauce, commonly used as a dipping sauce for fruit. Usually made with apricots as the base, I decided to use cranberries and rhubarb instead, along with lime zest and juice, adding to the tangy tartness I love about this sauce. The sweetnes comes from hibiscus flowers, which is punched up a bit with a monk fruit erithrytol sweetener. And of course it wouldn't be complete without the Mexican flavours of sweet-spicy ancho peppers and chili-lime powder Try dipping jicama sticks into it for a snack! It's the bomb!
Vegan Keto Cranberry-Rhubarb Mexican Chamoy Sauce
Ingredients:
Directions:
In a medium saucepan, bring all ingredients, except lime juice, to a boil. Reduce heat to low and simmer for 30 minutes.

Turn off heat and allow to cool 10 minutes.

Add everything to a blender including the lime juice and blend well.

Check for consistency. Add water by the tablespoon if you prefer a thinner consistency. Transfer to glass jars and store in fridge for up to 2 months.
Did you make this vegan keto cranberry-rhubarb chamoy sauce recipe? If so, please let me know how it turned out in the comments. Or if you share pics of your creations on Instagram, please tag me so I can see them. Enjoy! :)