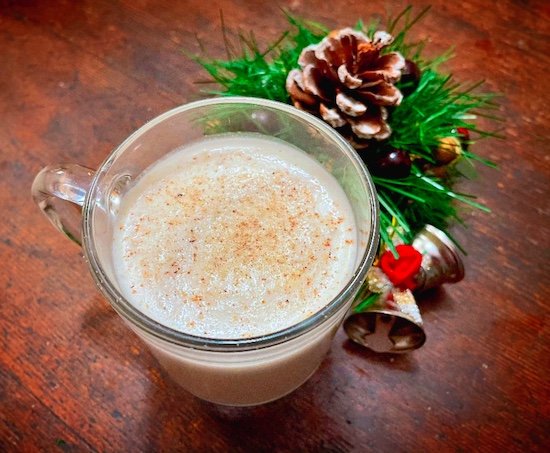 Need a break from dairy and eggs, but still want to enjoy eggnog over the holidays? Try this vegan keto version using coconut cream as the base. Be sure to use freshly grated nutmeg too. It makes all the difference in the world. And while you don't need the booze to help temper raw egg, it does add lovely flavours, even if you only use the alcohol-free extract versions.
Vegan Keto Creamy Coconut Eggnog
Ingredients:
Optional Add-in Ingredients:
1 oz bourbon, dark rum (or a blend) per 8 oz glass (*May sub with ⅛ teaspoon rum extract or bourbon extract.) -Freshly grated nutmeg, grated (plus more for serving)
Directions:
Add all ingredients to a high speed blender. Blend on high until creamy and smooth, around 30 seconds.

Taste and adjust flavor as needed, adding more nutmeg, sweetener, or salt. Transfer remaining eggnog to a jar or pitcher for storing.

When serving, stir in bourbon, dark rum (or a combination of the two), if desired. Top with a fresh grating of nutmeg. If everyone's adding booze (or booze extracts), feel free to add it into the blender with the rest of the ingredients. Leftovers should keep in the fridge up 5 days.
Did you make this vegan keto creamy coconut eggnog recipe? If so, please let me know how it goes in the comments. Or if you share pics of your creations on Instagram, please tag me so I can see them. Enjoy! :)