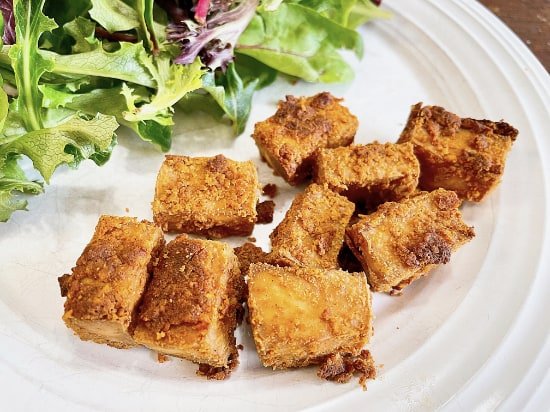 I was in the mood for a warm snack, something similar to chicken nuggets, but easier and with healthy ingredients. I had a block of tofu and thought maybe I could do something similar with that. I created a coating that baked up into a savoury, crispy topping that made this a lovely snack. It would also make a great addition to a salad.
Vegan Keto Crispy Baked Tofu Recipe
Ingredients:
Directions:
Preheat oven to 425F. Add tofu to a bowl and toss with remaining
ingredients until fully coated, adding in oat fibre ½ tablespoon at a time
1/2 tbsp at a time.

Spread tofu out on a to a lined baking sheet pan. Bake tofu for 25-30 minutes, rotating them halfway through. or until you reach desired level of crispiness. Eat alone, dipped in a sauce, or add to a salad.
Did you make this vegan keto crispy baked tofu recipe? If so, please let me know how it turned out in the comments. Or if you share pics of your creations on Instagram, please tag me so I can see them. Enjoy!