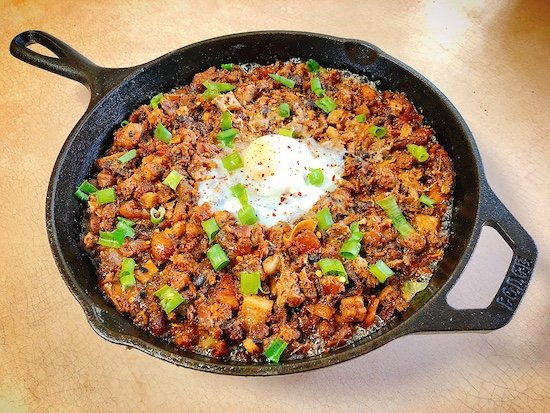 The last time I was in Ottawa, I requested keeping the head from a lechon we got, a full roast pig. I got my cousin, Dhom Rosete, one of several chefs in my family, to show me how to make crispy pork sisig, a popular Filipino recipe. We only used half the head, so that I could bring the other half home and experiment with my own recipe for it. Last night, I finally did it, and it was enjoyed thoroughly by all, myself included.
If the thought of using pig brains throws you, feel free to just use mayo, but if you do have access to a pig's head for the recipe, why not use all the parts you can? It's healthy to eat organ meat, plus it really does taste pretty similar to mayonnaise when cooked. You can also omit the pig's ears and just use all pork belly, but you really would be missing out as pig's ears have a lovely consistency that adds to this dish, and they contain lots of healthy collagen too.
Keto Low-Carb Crispy Filipino Pork Sisig
Ingredients:
6 cups water
1lb. pig ears and/or pig head parts and 1½ lb pork belly (*May use head and meat from leftover lechon, Filipino roast pig, if available.)
1 cup red onion, diced
4 cloves garlic, minced
1" piece ginger, minced
2½ tablespoons malt vinegar or rice vinegar
½ teaspoon crushed red pepper flakes (or to taste)
2 tablespoons tamari soy sauce or coconut aminos
2 tablespoons pork fat or butter
3 tablespoons mayonnaise (or cooked pig brains, or a combination of the two)
¼ lb chicken livers (*Pate also works, which is what I used.)
Sea salt and freshly ground black pepper (to taste)
1 stalk green onion, chopped
1 egg (*optional)
1 tablespoon calamansi juice (*or sub with lemon juice if unavailable)
Directions:
Pour the water in a pan and bring to a boil Add salt and pepper. Put-in the pig's ears and/or head parts and pork belly then simmer for 40 minutes to 1 hour (or until tender). Remove the boiled ingredients from the pot then drain excess water. Grill the boiled pig ears and pork belly until done. If using leftover parts of a lechon that are already cooked so you can bypass this step.

Chop pig ears, head parts and pork belly into small pieces. Scoop out cooked pig brains and reserve for use later.

In a large skillet, melt the pork fat or butter. Add the onions. Cook until onions are soft. Add garlic and ginger and saute until fragrant, another 1-2 minutes.

Add the chopped pig ears and pork belly. Saute for another 8-12 minutes, until crispy. Halfway through cooking, add the chicken liver. Crush the chicken liver while cooking it in the pan (*If using pate, wait until e last couple of minutes of cooking then add it, simply breaking it up until it's consistent throughout the mixture.

Add vinegar, soy sauce, and chili flakes. Mix well. Add salt and pepper to taste. Cook another 3-4 minutes scraping up any browned bits that may be sticking to the bottom. Cook until liquid has mostly evaporated, around 4-6 minutes. Preheat a separate cast iron skillet to medium during this last step. Stir in mayo (and/or pig brains) into the pork mixture.

To finish, transfer pork sisig mixture to preheated cast iron skillet. If you're feeling lazy and don't want to wash another dish, you can bypass this step, but it really levels up the presentation and gives that last layer of crispiness to the finished dish. Top with raw egg, if using, and green onions. Remove from heat and serve sizzling hot with cauliflower rice to go with it. Stir in the egg and sprinkle with calamansi or lemon juice before serving.
Did you make this keto crispy Filipino pork sisig recipe? If so, please let me know how it goes in the comments. Or if you share pics of your creations on Instagram, please tag me so I can see them. Enjoy! :)