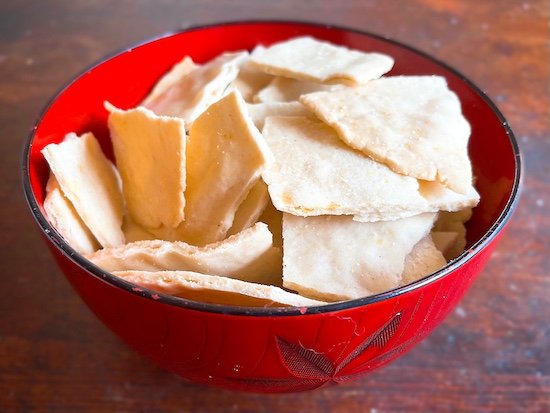 Since we only do carb-ups one to two times a week, I don't usually buy carb-up crackers, since they would like get stale before we would finish them. I decided to take a stab at making my own, using only quality gluten-free flours, both made from tubers, arrowroot and cassava. The dough was easy to roll out and man, did they ever come out crunchy! They taste great on their own, but are still neutral enough to work as a dipping cracker.
Vegan Carb-Up Crunchy Paleo Crackers Recipe
Ingredients:
Directions:
Preheat oven to 400F whisk together all the dry ingredients to a mixing bowl. Add the water and olive oil and combine well.

Place a silicon mat or piece of parchment paper on top of a baking tray and add the dough to it. Roll the dough out flat to approximately 2mm thick.

Put the baking tray in the oven and bake for 20-25 minutes, rotating the pan halfway through, or until dried out.

Remove and allow to cool fully then break into crackers. Enjoy with your favourite dips and spreads.
Did you make this vegan carb-up crunchy paleo crackers recipe? If so, please let me know how it turned out in the comments. Or if you share pics of your creations on Instagram, please tag me so I can see them. Enjoy! :)