This is one of the best pork roast recipes I have ever tried. The interplay between the herbs, citrus ingredients and light sweetness is unmatched in my experience. It is delicious and always leaves me wanting more. (*Disclaimer: This recipe was adapted from the one shared by Jon Favreau (created by Roy Choi), made popular by his movie, Chef, and his new Netflix show, The Chef Show. It's an awesome show if you're into cooking, so check it out!)
Before you balk at the sugar and orange juice contained in the brine, know that very little of it ends up in the actual meat. (*More info on this.) Sugar molecules are much larger than salt molecules, which is why even after a lengthy period of brining, only a small amount ends up in the surface of the meat. The reason why sugar is included in the brine is to create the Maillard reaction, which helps brown the meat and make the skin crispy, something that won't happen with pork unless you overcook it. The sweetness also helps balance out the saltiness as well, which matters since you don't rinse off the pork shoulder at the end of the brining for this recipe.
If you can live without browned meat, feel free to swap the sugar for a keto-friendly sweetener, none of which will create the Maillard browning reaction. You can also swap the orange juice for water mixed with lemon juice, orange extract, and liquid stevia. If you're super concerned about the small amount of orange juice in the mojo marinade/sauce, you can do this same swap there too, but I feel it's worth it to use just a little freshly squeezed orange juice along with the grated orange peel as it does add a more pleasing flavour.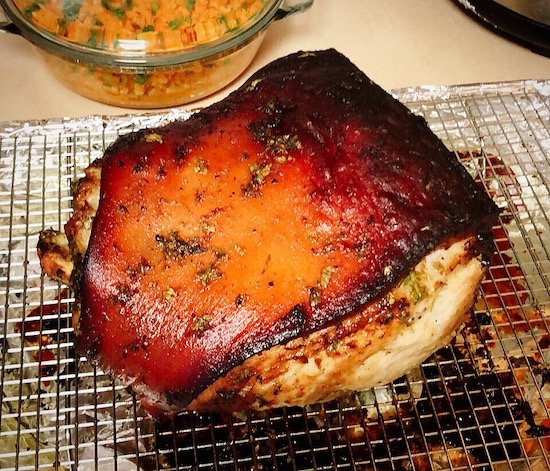 Keto Cuban Mojo Roast Pork Recipe
Brine Ingredients:
4 cups orange juice (*or swap with 3½ cups water, ½ cup lemon juice, ½ teaspoon liquid stevia, 1 teaspoon orange extract)
3.5 cups water
½ cup rice vinegar (*May also use raw cider vinegar.)
½ cup spiced rum
½ cup kosher salt
¼ cup cane sugar (*or swap for xylitol or Swerve, if browning isn't important to you)
9 cloves garlic, chopped
1 tablespoon fresh thyme
1 tablespoon fresh rosemary
1 tablespoon fresh oregano
1 tablespoon fresh sage
Small handful of peppercorns
3 bay leaves
Mojo Marinade Ingredients:
This amount works for an 8-lb bone-in pork shoulder (usually a better price), but a 6 or 7-lb boneless cut would be more convenient for slicing.
Mojo Sauce Ingredients:
1 teaspoon lime juice, freshly squeezed
1-2 tablespoons jalapeño, finely chopped
½ teaspoon keto sweetener (Confectioner's Swerve, stevia, monk fruit, etc.)
1 tablespoon fresh cilantro, chopped
2 teaspoons fresh oregano, chopped
Directions:
Dissolve the salt and sugar into warm water. Add all other liquid ingredients, as well as the peppercorns and allow to come to room temperature. Stir in the herbs. Brine the pork shoulder for 12 hours. Be sure to do this in a foodsafe bag or container, ensuring the brine solution covers the entire piece of meat.

Prepare mojo marinade. Whisk together all the ingredients for the marinade then put in the fridge until ready to use.

Remove pork from brine and pat dry. Do not rinse. Marinate pork shoulder in mojo marinade for at least 2 hours.

Remove the pork from the marinade and bring to room temperature. Reserve the marinade.

Preheat the oven to 450° and set a rack over a rimmed baking sheet. Transfer the pork to a work surface; discard the marinade. fold the pork under itself, into thirds if necessary, and tie with string to form a neat roll. Season all over with salt and pepper and set it on the rack. Roast the pork for 20 minutes, until lightly browned.

Reduce the oven temperature to 300° and roast until a meat thermometer inserted in the center registers 160° (around 45 min per pound). Baste the roast with the marinade once every 45 minutes during cooking. Remove transfer to a carving board and let rest for 30 minutes.

While roast is resting, make the mojo sauce. Add the reserved marinade, lime juice, sweetener, jalapeño, and 2 tablespoons of the roasting pan drippings into a small saucepan. Bring to boil then turn down heat to low. Sprinkle in xanthum gum, whisking it in well. Simmer for 1 minute, then remove from heat. Add salt and pepper to taste and set aside.

After 30 minutes, slice the roast pork in uniform cuts across the grain. If you want to serve it right, keep the skin attached so you get a little crispy piece in every slice. Mine was a littlentoo perfect when I made it so we ended up taking the whole skin cap off and munching on it as a pre-meal snack (why it's missing in my photos... lol.) Serve with mojo sauce and Cuban yellow cauliflower rice. And make sure you save some mojo Pork for make Cubanos (Cuban sandwiches) the next day!
Did you give this keto Cuban mojo roast pork recipe a try? How did you like it? Please share your thoughts in the comments. And if you post any pics on Instagram, please tag me so I can see them. Enjoy! :)