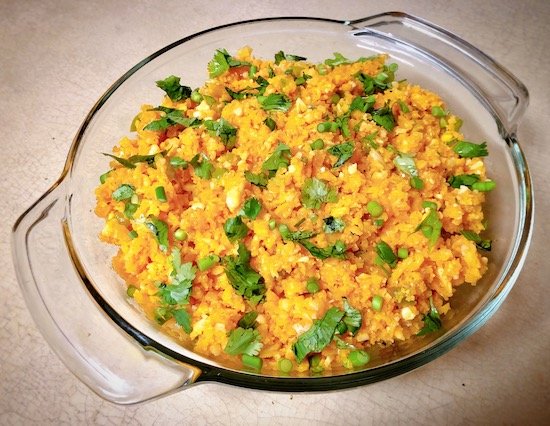 Most of the Cuban side dishes involve heavy carbs, like rice, beans and plantains, so I went ahead and adapted a Cuban-style yellow rice recipe using cauliflower rice to go with the mojo roast pork I was cooking up.
Cuban Keto Yellow Cauliflower Rice Recipe
Ingredients:
Directions:
Bring the stock to a boil and set aside.

Melt pork fat over medium heat in a large skillet. Add shallot or yellow onion and garlic and sauté until translucent.

Add cauliflower rice, sazon goya packages, and half of the broth. Allow to simmer uncovered until the liquid starts to boil down, stirring occasionally. Add the remaining broth, and simmer until the cauliflower is soft and most of the liquid has disappeared. Add in green pepper and celery and sautéed until the liquid has evaporated. Season with salt and pepper to taste. Garnish with fresh cilantro and serve.
Did you give this keto Cuban yellow cauliflower rice recipe a try? How did you like it? Please share your thoughts in the comments. And if you post any pics on Instagram, please tag me so I can see them. Enjoy! :)