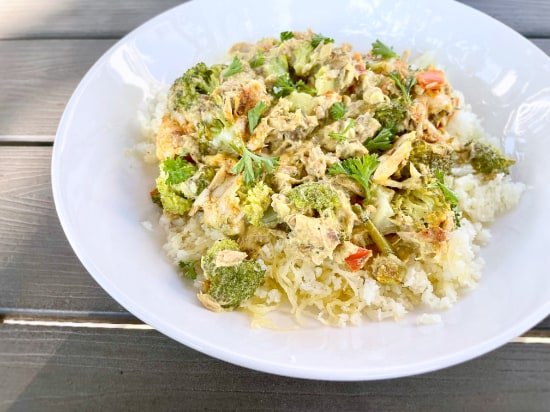 I don't know what it is about tuna, but it really goes well with a creamy curry sauce. The first tuna casserole I ever had had that combination. It used rice as the base, but it was delicious! I finally decided to do my own keto version of it and decided to go with broccoli for the base because the strong curry flavour can handle the stronger flavour of the broccoli.
Keto Curried Tuna Casserole Recipe
Ingredients:
Directions:
Blanch the broccoli in a large pot of well salted boiling water, until barely tender, 2-3 minutes. Drain well and set aside.

Preheat oven to 350F. In a large skillet heat the ghee or avocado oil over medium heat. Add the onion and red pepper and cook until onions are soft and translucent. Add the garlic and cook for 30 seconds or until fragrant.

Reduce heat to low and stir in Greek yogurt, curry powder, nutritional yeast, mayonnaise, and lemon juice. Sprinkle with glucomannan then whisk in well. Allow to simmer 2-3 minutes until it thickens.

Remove from heat and stir in broccoli and tuna until consistent. Season with black pepper and salt to taste.

Transfer the mixture into a casserole dish. Sprinkle with cheese (if using) and bake in preheated 350 degree oven for 20-25 minutes or until cheese is bubbly.

Remove from oven and allow to cool 5-7 minutes. Sprinkle with parsley or cilantro and serve warm on its own or over cauliflower rice.
Did you make this keto curried tuna casserole recipe? If so, how did it go? Please share your thoughts in the comments. Or if you share pics of your creations on Instagram, please tag me so I can see them. Enjoy! :)