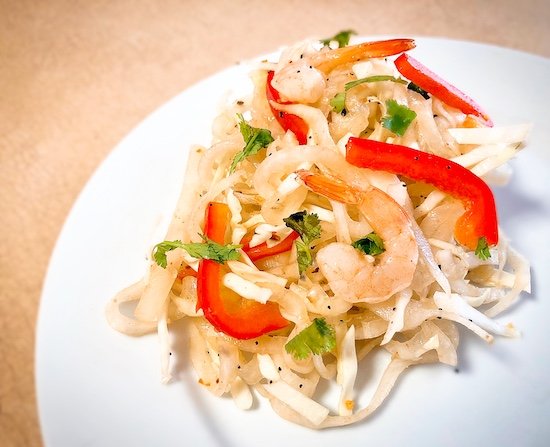 Sometimes a simple salad is all you need to pair with a stellar main dish. This daikon noodle salad used spiralized daikon as a base, adding a few extra veggies for colour and dimension, topping it off with an Asian-inspired sesame-ginger dressing, making it a great side dish to go with a main dish of tofu or tempeh, chicken, fish, or whatever Asian main dish you like.
Keto Daikon Noodle Salad with Sesame Ginger Dressing
Dressing Ingredients:
Salad Ingredients:
3 cups daikon radish, peeled and spiralized
¼ teaspoon fine sea salt
2 cups Napa or Taiwanese cabbage, shredded
½ cup red peppers, thinly sliced
2 green onions, finely chopped
2 teaspoons black sesame seeds, toasted
Sliced tofu or tempeh, (*optional, or try grilled chicken or cooked shrimp if not vegan.)
Flaky sea salt (like Maldon or Fleur de sel and freshly ground black pepper, to taste
Fresh cilantro, chopped for garnish
Directions:
Place daikon radish noodles in a large bowl. Sprinkle with ¼ teaspoon sea salt and toss. Let sit while you make the dressing.

Place sweetener, lime juice, rice vinegar, coconut aminos, fresh ginger, garlic powder, sea salt and oils in a wide mouth quart jar. Blend with a handheld immersion blender until smooth and creamy. Alternately blend in the pitcher of a blender. Set aside.

You will notice the daikon radish has wilted some and is damp. Blot dry with a paper towel. Add the rest of the sliced vegetables and sesame seeds. Mix together. Add enough dressing to season but not all of it. The recipe makes more than what you need for this salad. (I almost always make extra dressing so I have some on hand). Serve topped with sliced grilled chicken (or not) and pass the cilantro.
Did you make this vegan keto daikon noodle salad with sesame ginger dressing recipe? If so, please let me know how it turned out in the comments. Or if you share pics of your creations on Instagram, please tag me so I can see them. Enjoy! :)