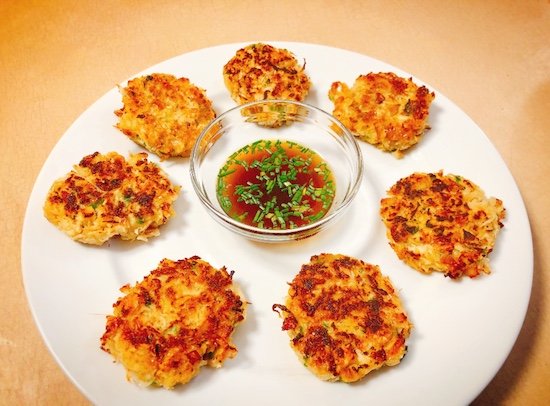 Daikon radish pancakes are an inherently low-carb food that is often sold as a street food all over China. There are many different versions of the recipe, so I picked through them to put together my own personal version of it. They make for a lovely snack or appy.
Keto Daikon Radish Pancake Ingredients:
Sauce Ingredients:
Directions:
Sprinkle ½ teaspoon salt throughout the daikon. Set aside for 15 minutes. Combine the ingredients for the sauce in a small bowl and set aside. Squeeze out as much water as you can out of the daikon.

Add green onion, nutritional yeast, egg (or flax/chia egg), sesame oil, tamari soy sauce (or coconut aminos), white pepper, and salt. Combine well.

Add coconut flour ½ tablespoon at a time until a thick, moist batter forms.

Heat oil in a frying pan over medium-low heat. Add 2 tablespoons of batter for each pancake, flattening them out into discs. Cook for 4-6 minutes per side, or until golden brown. Serve hot accompanied with sauce for dipping.
Did you make this keto daikon radish pancake recipe? If so, please let me know how it turned out in the comments. Or if you share pics of your creations on Instagram, please tag me so I can see them. Enjoy!