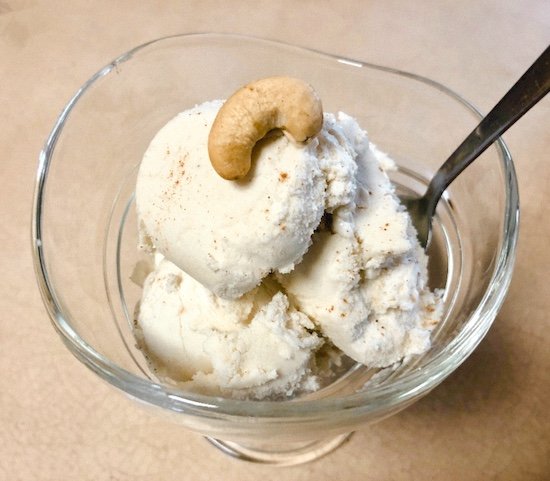 If you've been a reader of my blog for a while, you know I LOVE making keto ice cream. But now that I'm trying to cut back on cow's dairy, I need new recipes to make frosty treats. This low-carb, vegan keto cashew vanilla ice cream may be my new gold standard for a dairy-free vanilla ice cream, using soaked cashews to give it the thick, creaminess I love of my old scoopable vanilla recipe that was the base for all my other recipes.
Vegan Keto Cashew Vanilla Ice Cream
Ingredients:
Directions:
Add soaked cashews to a high-powered blender. Process cashews with 1 cup of non-dairy milk on low to medium speed for a few minutes; gradually increasing to high speed until a smooth frothy mixture forms. (*If using a Blend-tec blender, just use the smoothie setting.)

Add remaining milk, xylitol, vanilla, bourbon, salt, and glucomannan, and process until combined. Chill mixture in the fridge, as well as the container you plan to use for the ice cream for at least 2 hours.

Pour ice cream mixture into ice cream maker and churn until soft serve ice cream you get a soft-serve consistency. You can eat it in this form if you like or pour the ice cream into chilled container and freeze until firm at least 4 hours (or overnight). Before serving, allow ice cream to soften for 10-15 minutes on the counter.
Did you make vegan keto cashew vanilla ice cream recipe? If so, please let me know how it turned out in the comments. Or if you share pics of your creations on Instagram, please tag me so I can see them. Enjoy!