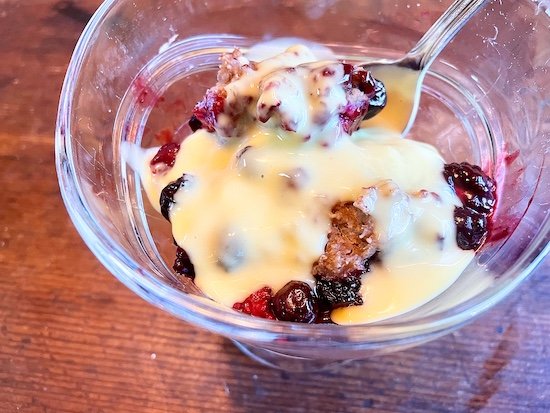 Having a sensitivity to dairy means that I try to minimize using it wherever possible, so when I had need of a custard for use with a cobbler, I tried my hand at making one without it. It was a resounding success! Even those who didn't have issues with dairy enjoyed it, and were even surprised there wasn't any dairy in it. It's easy to make too.
Vegan Keto Dairy-Free Custard Recipe
Ingredients:
Directions:
Heat 1 cup of non-dairy milk to a medium saucepan over medium-high heat until the milk warms up. In the meantime, add the rest of the milk and the remaining ingredients to a bowl and whisk until well combined.

Once the milk has come to a gentle simmer, pour in the custard mix and whisk for around 8-10 minutes or until it starts to thicken or the it starts to stick to the bottom of the pan (whichever comes first).

Reduce the heat to low and cook stirring for an additional 2 minutes. (If you the custard is still too thin, keep cooking it. If you've reached your desired consistency, you can take it off the heat.)

Remove from heat and allow to cool slightly and serve warm or allow to cool completely then stir and serve. If it's a little lumpy, give it a quick buzz with a hand mixer before serving.

Serve on top of your favourite bread puddings, trifles, fruit cobblers, crumbles, or crisps. Store leftovers in the fridge after cooling for up to 3 days.
Did you make this vegan keto dairy-free custard recipe? If so, how did it go? Please share your thoughts in the comments. Or if you share pics of your creations on Instagram, please tag me so I can see them. Enjoy! :)