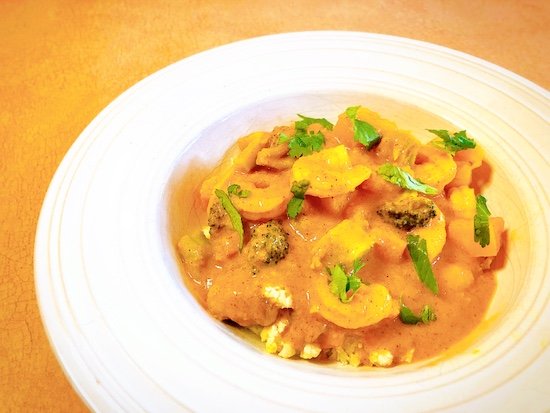 I love a good korma! There's so much going on in it with all the different spices, sweet, spicy, creamy... yummy. Indian korma curry is traditionally made using dairy, which I am currently avoiding, so I replaced the usual yogurt, heavy cream and ghee with coconut cream, coconut milk beverage and and coconut oil.
Vegan Keto Korma Recipe
Sauce Ingredients:
⅔ cup yellow onion, peeled and halved
3 cloves garlic, peeled
1 (1-inch) piece ginger root, peeled and roughly chopped
½" piece turmeric, peeled and roughly chopped (*Optional)
1 jalapeño pepper, stemmed and seeded (*Or leave in seeds for extra heat.)
¼ cup raw cashews, soaked 3-4 hours
Korma Ingredients:
(*Note: I just used whatever vegetables I happened to have on hand. The sauce is so versatile it'll go with almost anything, so feel free to experiment with what you have in your fridge.)
Directions:
Add onion, garlic, ginger, jalapeno, and cashews in the bowl of a blender along with ½ cup of water. Process until pureed.

Heat coconut oil in a large skillet over medium heat. While the oil heats, measure out all of the spices and place in a small bowl.

Pour sauce from blender into the hot pan and stir in the spices. Cook for 2-3 minutes, until fragrant.

Add tomato paste, coconut cream, coconut milk beverage, Swerve Brown, rutabaga, and broccoli florets. Stir well, cover the pan, lower heat and simmer for 10 minutes.

Uncover, add mushrooms, and cook a further 5-7 minutes, or until the rutabaga is tender. Serve with cooked cauliflower rice.
Did you make this vegan keto dairy-free korma recipe? If so, please let me know how it turned out in the comments. Or if you share pics of your creations on Instagram, please tag me so I can see them. Enjoy!