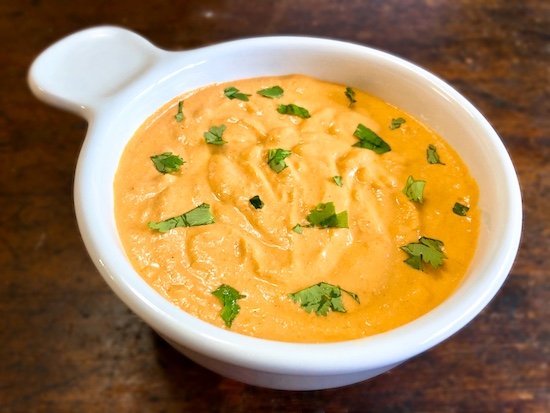 This dairy-free nacho cheese sauce recipe is so versatile, you can make it low-carb OR low-fat, just by swapping one or two key ingredients. Fatty cashews and protein-rich tofu make the keto version of this creamy, and uses various spices to its cheesy flavour. If you're doing a carb-up, on the other hand, you swap the tofu for cooked potato and the cashews for cooked carrots, and you get a similar consistency so you can have your baked tortilla chips and enjoy creamy, cheesy dip without all the fat and dairy. Both versions can have a place at your table if you're trying to maintain metabolic flexibility.
Ingredients:*
¾ cup of extra-firm tofu (around 170g) (*Or sub with ¾ cup of cooked white potato for a soy-free, carb-up version.)
½ cup unsweetened coconut milk beverage (*Or other unsweetened non-dairy milk.)
⅓ cup raw cashews, soaked in water for 3-4 hours, drained and rinsed (*For carb-up version, use ½ cup carrots, peeled, cubed and cooked.)
1 small jalapeño pepper, seeded and chopped, or 1 chipotle pepper in adobo sauce, or to taste
1½ tablespoons lemon juice, freshly squeezed
1 tablespoon raw cider vinegar
1 teaspoon garlic powder
1 teaspoon onion powder
1½ tablespoons nutritional yeast
½ teaspoon smoked paprika
½ teaspoon ground cumin
¾ teaspoon [flaky sea salt (like Maldon or Fleur de sel and freshly ground freshly ground black pepper
¼ teaspoon white pepper
1 teaspoon Dijon mustard
¼ teaspoon ground turmeric
Fresh cilantro leaves, chopped (for garnish)
Directions:
Add all ingredients to a blender and blend until smooth.

When ready to serve, transfer to a saucepan and heat over medium-low heat. Stir for about 2-4 minutes or until desired temperature. Alternatively, you can heat it in the microwave on high for 2-3 minutes. Serve with tortilla chips or sliced peppers. Makes around 1½ cups.
Did you make this keto/carb-up, low-fat/low-carb vegan, dairy free nacho cheese sauce recipe? If so, please let me know how it turned out in the comments. Or if you share pics of your creations on Instagram, please tag me so I can see them. Enjoy! :)