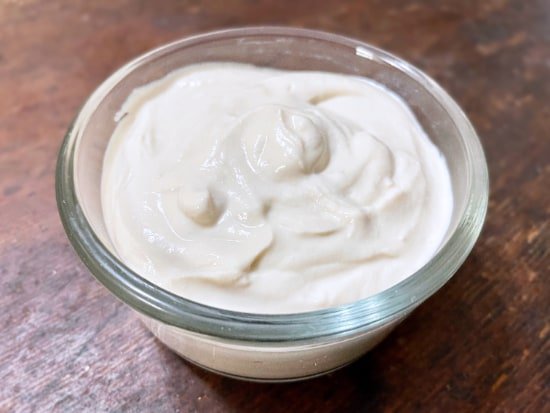 Who needs a second vegan keto sour cream recipe? Apparently I do. This was mostly inspired by the fact that I was out of cashews so I couldn't make my nut-based one. But I did have half a package of tofu kicking around. And so this recipe was born.
Vegan Keto Dairy-Free Tofu Sour Cream Recipe
Ingredients:
Directions:
Press all the water out of the tofu using a tofu press. If you don't have one, you can wrap it in paper towel on a plate and put a cast iron skillet or Dutch oven on top of it for 20 minutes.

Add all ingredients in a blender and process until mixture is smooth and creamy.
Chill until ready to serve. Keeps in air tight container in the fridge for up to 10 days.
Did you make this vegan keto dairy-free tofu sour cream recipe? If so, how did it go? Please share your thoughts in the comments. Or if you share pics of your creations on Instagram, please tag me so I can see them. Enjoy! :)