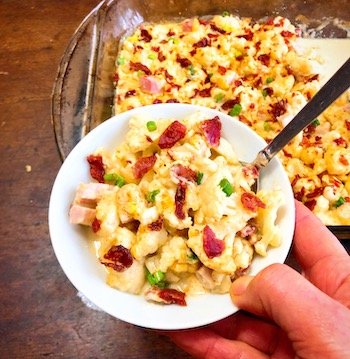 This keto cauliflower faux Mac and cheese recipe is a tribute to all things decadent with 4 kinds of cheese and two kinds of bacon, it is a fatty smorgasbord for any meat and cheese-loving low-carber who wants to live it up.
Double Bacon Cauliflower Faux Mac and Cheese Recipe
Ingredients:
4 cups cauliflower, cut into pieces
2 tablespoons unsalted butter
2 cloves garlic, minced
3 tablespoons onion, finely chopped
1 tablespoon lemon juice (freshly squeezed if available)
¼ teaspoon Himalayan pink sea salt
¼ teaspoon freshly ground black pepper
¾ cup cream cheese
1 teaspoon Worcestershire sauce
½ teaspoon hot sauce
2 tablespoons whipping cream
½ cup unsweetened almond milk
½ cup Gruyere cheese, grated
⅔ cup sharp white cheddar, grated
⅓ cup Parmesan cheese, grated
3 tablespoons nutritional yeast
6 slices bacon, cooked, crumbled
⅔ cup Canadian back bacon, diced
3 tablespoons green onion, chopped
Directions:
Put cauliflower in a large microwave safe bowl with a couple of tablespoons of water. Cover and cook on high in the microwave for 3-4 minutes or until cauliflower is tender.

Preheat oven to 350F. While the cauliflower is cooking, heat a large skillet to medium-low heat. Melt butter then add onion, cook for about a minute then add garlic and cook another 30 seconds to 1 minute or until translucent.

Add the almond milk, cream, cheeses, Worcestershire sauce, hot sauce, nutritional yeast, salt and pepper. Stir mixture until the cheese is fully melted and the texture is smooth.

Combine the cooked cauliflower and back bacon in a lightly greased 2-quart casserole dish then pour the cheese sauce over top. Sprinkle crumbled bacon on top and bake in preheated oven for 25 minutes.

Remove from oven and allow to cool for 7-10 minutes. Sprinkle green onions on top before serving.
What's your favourite keto variation on the Mac and cheese? Please share in the comments. Or if you make this recipe, let me know how it goes. If you'd like a slightly healthier version of this recipe, check out my keto salmon cauliflower faux Mac and cheese recipe. As always, if you post any pics of your creation on Instagram, tag me so I can see your creation. :)