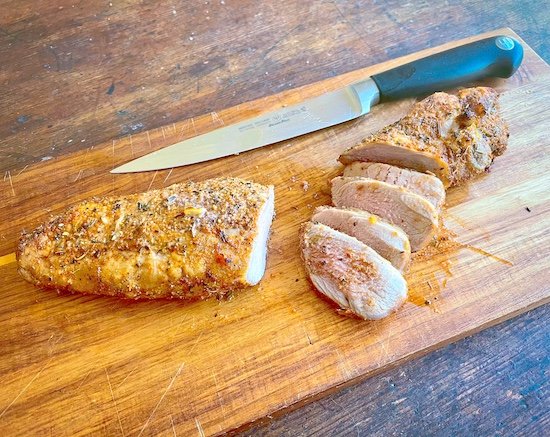 I had some pork tenderloin that needed to be eaten, but no special ideas as to what to do with it other than just wanting something easy. I came up with a nice spice blend to sprinkle over it then baked it to perfection. If you dry brine it with salt ahead of time, it'll help keep it juicier while baking, but it'll turn out great even without that if you don't have time.
Ingredients:
Directions:
If you have time, pat your tenderloins dry then sprinkle kosher salt 40 minutes before you plan to cook or the night before if possible. Remove from fridge 20 minutes before you plan to cook to bring to room temperature. Preheat oven to 400 degrees and lightly grease a large baking/casserole dish. Pierce tenderloins all over with a fork. Rub oil onto all sides of the meat.

Whisk together Italian seasoning, garlic powder, cumin, salt, chili powder, smoked paprika and black pepper. Sprinkle mixture over tenderloin, patting it onto the surface of the meat on all sides. Place in prepared baking dish and drizzle lemon/lime juice over the top.

Bake for 25-35 minutes until outside is browned and crispy and centers are cooked through to desired doneness (you can take them out on the early side if you like the centers a little pink).

Spoon juices from the dish over the meat. Allow to rest on a cutting board or in the baking dish for 5-10 minutes. Slice into 1 inch pieces. Spoon any remaining juices from the pan over the slices, garnish with fresh chopped cilantro if desired, and serve.
Did you make this easy baked pork tenderloin recipe? If so, please let me know how it turned out in the comments. Or if you share pics of your creations on Instagram, please tag me so I can see them. Enjoy! :)