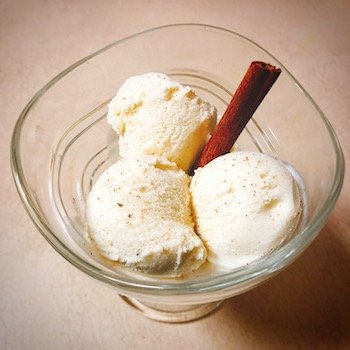 Of course eggnog can be made into ice cream! The ingredients in eggnog all lend themselves well to ice cream, so making this recipe for the holidays was a no-brainer. So if you're already tired of my candy cane chocolate fudge crackle ice cream recipe (I don't know how that could be possible, but you never know...), give this keto eggnog ice cream a try!
Keto Eggnog Ice Cream Recipe
Ingredients:
Directions:
Beat eggs with cream of tartar with a mixer until frothy. Add xylitol a little at a time until mixture thickens.

Add all remaining ingredients and mix well, but don't overdo it or else the cream will start to form a frothy layer on top.

Chill ice cream mixture for at least 1 hour.
Add chilled mix to your ice cream maker (*I use the Cuisinart Ice Cream Maker.) and follow the manufacturer's instructions for your model.

If you like a soft-serve consistency, you'll be able to serve it as soon as it's done in the ice cream maker. If you want a "scooping" texture, let it set in the freezer for at least 4 hours or overnight. Serve with a fresh grating of nutmeg on top.
Try this eggnog ice cream recipe in a float using a sugar free cola or root beer for a festive twist on a classic! Or go for gold and add a little rum or vodka to the soda and make it into a festive cocktail. The sky's the limit! If you give this keto eggnog ice cream recipe a try, let me know how it goes in the comments. Or if you post a pic of your creation on Instagram, tag me so I can see it. :)