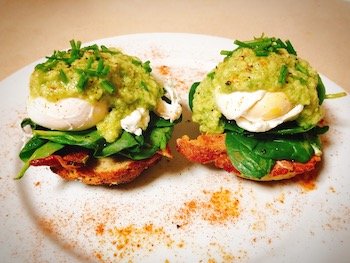 When I'm feeling like a slightly fancier brunch style meal, this keto eggs benedict BLT really hits the spot. Yes, a standard hollandaise sauce is fairly keto too, but the fats in avocado and olive oil are healthier on the whole, and the bacon is in there to keep it from being "too healthy." ;)
Keto Eggs Benedict BLT Recipe
*Ingredients:#
2 slices cooked bacon strips
1 cup baby arugula leaves or spinach leaves
1 teaspoon lemon juice (freshly squeezed if available)
Freshly black pepper, to taste
2 eggs, poached
1 keto bread roll, halved and toasted
2 large slices tomato
Keto Avocado Hollandaise sauce (see below)
1 teaspoon fresh chives, chopped
Directions:
Toss arugula or spinach leaves with lemon juice and freshly ground black pepper.

Layer toasted bagel halves with bacon, tomato, spinach/arugula, poached egg and top with avocado hollandaise and garnish with chives.
Avocado Hollandaise Sauce Recipe
Ingredients:
Directions:
In a blender, combine the avocado and lemon juice with ⅓ cup of hot water. Puree until smooth and light in texture, about 2 minutes, scraping down the side of the bowl occasionally. With the machine on, drizzle in the olive oil and puree until combined. Season with salt and pepper.
What are is your favourite way to do a keto-style eggs benedict? Please share in the comments. Or if you make this recipe, let me know how it goes there too. And of course, tag me in any photos you share on Instagram so I can see your creation. Enjoy your brunch! :)