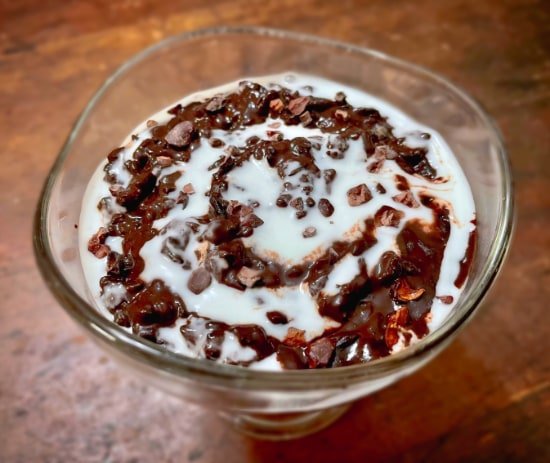 I was craving some Filipino sweets for a carb-up and decioded to do a sugar-free version of champorado (chocolate rice pudding). I used black glutinous rice to get an extra dose of antioxidants for which the "forbidden rice" is famous, on top of the cocoa powder and unsweetened dark chocolate. I also used vegan chocolate protein powder to thicken it further and add to the protein content of the dish. The result is a thick, chocolatey dish without weighing it down with a ton of fat. An awesome dessert for your next Filipino meal!
Vegan Sugar-Free Filipino Chocolate Black Rice Pudding Recipe
Ingredients:
Directions:
Rinse the black rice a few times over cold water, rub it rice with your hands. Drain really well. Add black rice, coconut oil, non-dairy milk, ½ cup water to Instant Pot. Set to pressure cook on high for 18 minutes then natural release for 10 minutes.

Set Instant Pot to sauté on low. Stir in chocolate, chocolate protein powder, water, 3 tablespoons sweetener, vanilla, salt and cinnamon (if using) to cooked black rice. Bring to a simmer, stirring constantly until chocolate has melted completely. It should thicken up a bit. Check the level of sweetness and add more sweetener if you prefer a sweeter pudding. Serve hot or allow to cool and serve cold or room temperature. Ladle into bowls, add a splash of non-dairy milk and sprinkle with raw cacao nibs (if using) to serve.
Did you make this vegan carb-up Filipino Champorado chocolate black rice pudding recipe? If so, please let me know how it turned out in the comments. Or if you share pics of your creations on Instagram, please tag me so I can see them. Enjoy! :)