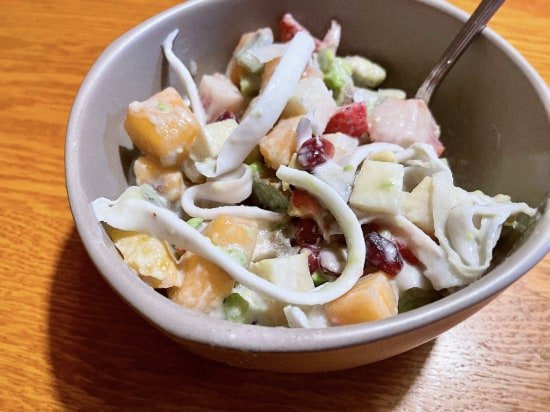 Filipino fruit salad is a favourite dessert at picnics and large family gatherings, but loaded with sugar. It usually includes a ton of syrupy canned fruit combined with shredded young coconut mixed in a creamy sauce of sweetened condensed milk combined with cream. I decided to make a lower carb, more keto-friendly version of this dessert, using avocados, jicama, and lower carb fruits and berries. For the cream sauce, I used coconut cream, sweetened with sugar-free sweeteners as well as vanilla protein powder to help balance out the macros. What resulted was a delicious, colourful fruit salad, reminiscent of recipe I grew up with, a comfort food without all the sugary carbs.
Filipino Coconut Fruit Salad Recipe
Fruit Salad Ingredients:
One 1lb bag frozen young coconut, shredded
3 small avocados, diced
⅓ cup blueberries
1 cup pomegranate seeds
1 cup peaches, diced
2 cups jicama, diced
½ cup kiwi, chopped
2 cups cantaloupe, diced
1 cup strawberries, sliced
Coconut Cream Sauce Ingredients:
Directions:
Add all coconut cream sauce ingredients to a blender. Blend until full combined.

Pour coconut cream sauce in a pot. Bring to a boil over a medium-high heat. Reduce heat to low and continue to simmer until thickened to desired consistency, stirring frequently. Remove from heat. Taste and add more sweetener if desired. Allow to cool completely.

In a large mixing bowl, combine the coconut, avocado, and all the fruit. Gently stir to distribute the ingredients. Add reduced sweetened coconut milk and stir to combine. Refrigerate for at least 4 hours or place in the freezer for 1 hour. Transfer to a serving bowl, label into bowls to serve.
Did you make this keto Filipino fruit salad recipe? If so, please let me know how it turned out in the comments. Or if you share pics of your creations on Instagram, please tag me so I can see them. Enjoy! :)