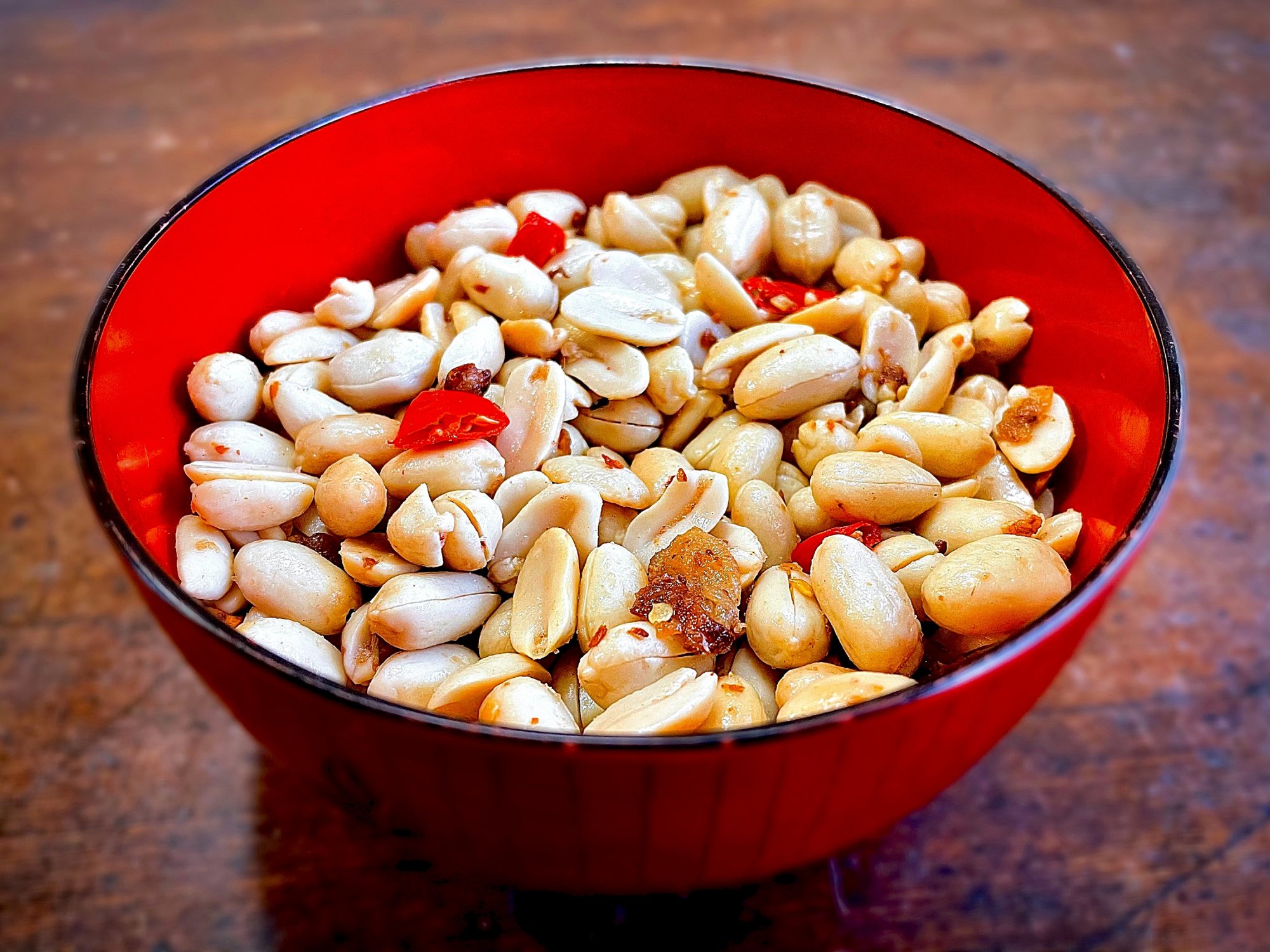 Historically, any time I stopped by a Filipino grocery store, I would check to see if they sold garlic adobo peanuts. They are crunchy, flavourful and delicious... but usually fried in some unhealthy vegetable oil like canola. I decided to try making my own so that I wouldn't be temped to load up on the all those bad fats.
Keto Filipino Garlic Adobo Fried Peanuts (Regular or Spicy)
Ingredients:
3 cups (around 400g) organic raw peanuts
⅓ cup avocado oil
¾ head garlic, crushed with the side of a knife and left 'whole' with the peel on
1 teaspoon fine sea salt
2-4 Filipino chiles ("siling labuyo") or 1-2 Thai bird's eye chilies, chopped (*optional, to make them spicy)
Directions:
Add oil to a large skillet and heat and heat to medium-low. Once it becomes hot, add garlic. Remove from oil once it turns golden brown. Be careful not to let the garlic darken or it will become bitter. Set aside. If any garlic bits separated into the oil, try to remove them too, but if over darkened, just throw them out as they will be bitter.

Add the peanuts to the skillet, along with the peels of the garlic cloves, to add to the aroma of the peanuts. Stir the peanuts frequently to keep them rotating. Ising a slotted spoon, remove the peanuts from oil once they have turned golden brown and add to a strainer to remove excess oil. Give the peanuts a wipe with paper towel. Then add to a medium mixing bowl. Add salt and chiles (if using). Toss well until combined. Serve warm or at room temperature. Store in a sealed jar.
Did you make this keto muffuletta sandwich recipe? If so, please let me know how it turned out in the comments. Or if you share pics of your creations on Instagram, please tag me so I can see them. Enjoy! :)